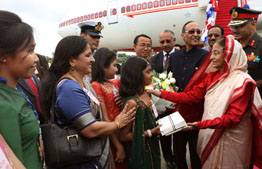 9 sep : Hon'ble President of India, Smt. Pratibha Devisingh Patil departed for the ten day foreign tour to visit Lao PDR and Cambodia today. The following is her on board statement made on board:
"This time I travel eastwards to Laos at the invitation of President Choummaly Sayasone and to Cambodia at the invitation His Majesty Norodom Sihamoni, the King of Cambodia. These are countries with whom India has deep historical and cultural relations dating back to the period of Emperor Ashoka. What Phu in Laos and Ankor Wat in Cambodia, both World Heritage Sites, stand as grand symbols of the ancient civilizational linkages of India with these countries. In more recent times, our countries have struggled against colonialism. Soon after Laos and Cambodia achieved independence, Prime Minister Nehru visited both these countries in 1954. India had been the Co-chair of International Commission for Supervision and Control on Indo-China where it played a significant role for which there is considerable appreciation in the region.
We have maintained political dialogues with both these countries. President Sayasone of Laos visited India in 2008 and Prime Minister Hun Sen of Cambodia in 2007, when I had the opportunity to exchange views with them on bilateral cooperation and on a range of issues of mutual interest. My visit will be an opportunity to continue discussions with the leaderships of these countries and to reaffirm our commitment to strengthen and consolidate our relations as well as enhance our economic engagement with these countries.
There exists enormous goodwill and affection for India in both these countries. This environment of trust and confidence we enjoy with these countries and the shared political commitment to take forward the relationship provides a good basis to reinvigorate ties. Laos and Cambodia are growing economies, seeking socio-economic development. I will assure them that they can count on India as a willing development partner. Our efforts in this direction have been towards undertaking infrastructure projects and capacity building programmes in these countries. Our trade and investment linkages have grown over the years although they remain much below potential. An Indian business delegation will be in Vientaine and in Phnom Penh, where I will interact with them as well as business representatives of both countries. I will urge them to avail of the many mutually advantageous opportunities that exist.
Our ties with Laos and Cambodia have a strong cultural and historical basis. At Luang Prabang in Laos and Siem Reap in Cambodia, I will visit monuments reflective of our common heritage to highlight the cultural bonds which have created a special empathy between our peoples. India is involved in the conservation and preservation of ancient monuments in both these countries. I hope my visit to these sites will encourage people-to-people contacts as well as tourism, thus strengthening our traditional linkages. The deep understanding that developed through history lasts to this day. It must be carried forward into the future and this can be possible through contacts between our students and the youth. We have Cultural Exchange Programmes with both the countries to promote cultural exchanges. During this visit, the existing Cultural Exchange Programme with Laos will be renewed for a further period of 3 years.
Our relationship with Laos and Cambodia are of strategic importance as well. I look forward to an exchange of views with Laos and Cambodia on how we can promote greater stability and security in the region. I believe India, Laos and Cambodia have much to gain by cooperating with each other in combating extremism and terrorism. I would like to add that both Laos and Cambodia have given us unconditional support for our candidature for permanent membership of UN Security Council.
My visit to Laos and Cambodia- two important countries in South East Asia will reaffirm our pursuit of a closer and enduring partnership with the countries of ASEAN region as part of our Look East policy. As Country Coordinator for India from 2003-06 in ASEAN, Laos played a proactive and supportive role for enhancing India's profile in the region. Currently, Cambodia is the coordinator on the ASEAN side on India-ASEAN relations, and we recall that it was under its Chairmanship of ASEAN that India attained Summit level partnership. I expect to discuss our growing engagement with ASEAN countries as we move towards the next Indian-ASEAN and East Asia Summits in Vietnam in October.
I will meet members of the Indian community in Laos and Cambodia, who are working and living there. They are also at the same time contributing to perceptions about India at the people's level, and thus are important in building bridges of friendship and promoting understanding.
I am looking forward to my visit to Laos and Cambodia to further strengthen our historic cultural ties. I am also sure that all of you are also looking forward to visiting these countries who have a rich culture and with whom we have had historical ties and a promising future relationship."