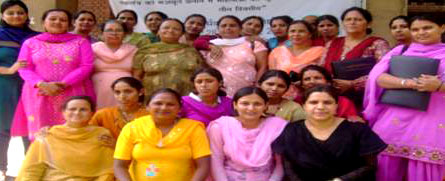 30 July : Centre for Social Research is mobilizing 1000 women leaders to contest in state and national elections through a UN project
Chandigarh, Punjab, July 30, 2009: Women's organizations and political leaders have stressed on the need for capacity building of Indian women to ensure their enhanced participation in state and national politics at a two and a half day long workshop titled "Enhancing the Role of Women in Strengthening Democracy" organized by Voluntary Health Association of Punjab and Centre for Social Research from 28-30 July 09. The consultation was a learning experience for 30 aspiring women politicians. Participants from Block Samitis, Zila Parishads to ward councilors and contestants from diverse political backgrounds and affiliations come together to share their experiences.
"We should have more women in politics. Such workshops are essential to train potential leaders as well as encourage the ones who are successful at the local governance level to enter State Assemblies and the National Parliament. Though significant number of women are present at the Panchayat level following the 73rd Amendment, however till date, their husbands are engaged in all the political activities. The situation needs to change, said Mrs. Lalit Joshi, Chairperson, Chandigarh Social Welfare Board.
The workshop was then started by an inspiring note from Mrs. Vijay Lakshmi Bhado, Chairperson, Punjab Social Welfare Board when she mentioned that Empowered Women can ensure an Empowered Nation.
The workshop is a part of CSR's United Nations Democracy Fund (UNDEF) Project which is aimed at addressing the gender gap as well as the challenges faced by women in Indian political processes and institutions. The workshop started with an introduction on the UNDEF project, an exchange program where participants and the resource persons would discuss about the status of women in society and challenges faced by them and an apt strategy to develop leadership skills among women. Resource person such as Ms. Rajesh Gill , Chairperson, Women Study Centre, Ms. Dabinder Dabi, Senior Sub Editor Punjabi Tribune, Ms. Daizy Zarabi, Programme Coordinator Regional Resource Centre , Ms. Sultana, Lecturer, Women Studies Centre, Ms. Manvinder, Reader, Women Study Centre , Mr. Kesar Singh, Associate Research Coordinator, CRRID, Ms. Sherry Sabharwal, Chairperson, Department of Sociology, Ms. Aruti Nayar, Chief Sub-editor, English Tribune and Mr. Ronki Ram, Chairperson, Department of Political Science shared their valuable thoughts with the participants..
The 2 and ½ day consultation included discussion of topics like constitution, political set up, concept of collective responsibility in a democracy, governance, gender issues, women in politics and 33% reservation. The sessions elaborated and discussed the status & challenges for women politicians in the current system. And at the same time 'break through strategies, grooming up practices and resource mobilization techniques' imparted a realistic view & enhanced confidence for the participants.
After the training sessions, an exercise was given to the participants to share their experiences in politics when they felt that they had to face the negative aspects of being a woman and other such issues. These sessions were important for women to gain political knowledge, information and training on legislation and policies.
At the end of the project, capacities of women across India will be enhanced to contest elections. Political parties will be made aware about this pool of trained women. Key political parties shall be encouraged to ensure voluntary quotas within parties to ensure gender balance. They will also be sensitized and lobbied with to ensure a smooth passage of the Women's Reservation Bill.
Why more women in Politics?
If we look at India, the gender stats of the World Bank in 2002 reflect that Indian female life expectancy, female labour force, primary school enrolment, female population is much lower than world and developing countries levels. Female enrolment in primary school in India was 75.7% which is much lower than world's 85.2% and developing countries (83.7%). Female labour force in India was 32.5%, world's 40.8 and developing countries 40.3. Percentage of female population in India was 48.4, world's 49.7% and developing countries 49.5%. Indian female life expectancy at birth was 64.2% much lower than world's 68.8% and developing countries 66.4%.
From 1991- 99, the overall literacy rate increased from 52 percent to 64 percent. Yet more than half of Indian women are still illiterate. As many as 60 % of the rural women are anaemic and more women than men die before the age of 35. Maternal deaths in India account for almost 25 percent of the world's childbirth-related deaths. According to the National Family Health Survey – 2, 1998/99, only 52% of women in Indian had a decision-making role in their health care. Suicide is the second largest cause of death in Indian women after tuberculosis.
The above mentioned discrepancies can only be addressed if there are more women in decision making. Men make up 51.73% of India's population. Women make up 48.26% of India's population. 61 female members have been elected to the 15th Lok Sabha this year, which is the highest number of women MPs ever elected since independence. More than 8 % of the women candidates have come out triumphant as opposed to 6.5% winning percentage for the men who contested the LS elections. This simply means that 1 in every 12 women candidates won the elections, whereas only 1 out of more than 15 men managed to win in the elections to the 543 Lok Sabha seats. But, despite women enjoying a better winning probability in the just-concluded polls, there will be only 46 of them in the new Lok Sabha, as compared to 497 men.
The Constitution of India, via Articles 325 and 326, guarantees political equality to all men and women. However, women have not benefited from this right. The representation of women in Parliament and State assemblies is extremely low in India.
In this context, it is critical to enhance the capacity of the women to fight elections, reduce or remove the preventive barriers and to introduce new affirmative steps, such as quotas, that can enhance the participation of women in the state and national parliaments. In India, there is a strong need to lobby for the passage of 33% Reservation of Seats for Women in Parliament Bill (Women Reservation Bill).