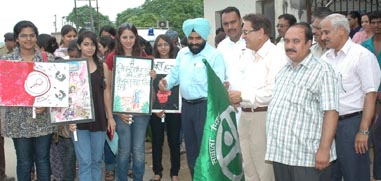 Barinder Saluja, Chandigarh,Sept. 07 : The Department of Life Long Learning & Extension, Panjab University, Chandigarh, celebrated International Literacy Day in Village Khudha Lahora UT, Chandigarh on 7th September 2010. More than 350 students, teachers, residents, Panchayat members from villages Khudda Jassu and Khuda Lahora participated.
Inaugurating the function, Professor R.C. Sobti, Vice-Chancellor, Panjab University, said that education of masses is crucial for development of self, society and Nation. Since every one can not join schools and colleges, we shall have to take education to the doorsteps of people, particularly in rural areas through extension programs for prevention of diseases, environment protection and skill development, he added. Earlier, Prof. Sobti planted saplings in the premises of Balwari Centre of Khuda Jassu. He also flagged off the literacy rally of students, teachers, villagers, and local Panchayat members holding placards with slogans on literacy, women empowerment, environment and anti-foeticide which passed through entire village. The slogans raised by the participants enlivened the atmosphere of the village.
Professor Ajaib Singh, Director, Department of Life Long Learning and Extension (DLLLE), PU, in his welcome address said that for the last four decades the society has made tremendous progress on literacy front, but still we are far behind as compared to other developed Nations. He highlighted the importance of literacy and vocational skills for each individual, both men and women, for their socio-economic well-being. He revealed that under Village Upliftment Project, Department of Life Long Learning & Extension had already adopted village Khudda Lahora and Khudda Jassu and are organizing programs for all round development of the area including literacy, cleanliness, environment, vocational skills like computer literacy, skin care and beauty culture etc.
Prof Sobti awarded prizes to the winners for Slogan writing and poster making competitions. Ms. Ruchi, Ms. Divya and Ms. Amarjit from UIFT were awarded 1st 2nd and 3rd prize respectively under slogan writing competition and Ms. Himan, Ms. Aruna and Ms. Anupreet (all from University Institute of Fashion & Lifestyle Technology (UIFT) were honoured with 1st, 2nd and 3rd prize respectively. Ms. Amandeep, Ms. Suman and Mr. Vikas from Govt. Sr. Secondary School, Khudda Lahora, Chandigarh bagged 1st, 2nd and 3rd prize in the slogan writing competition organized by the DLLLE.
Sarpanches of Villages Khudda Lahora and Khudda Jassu were honoured for providing support to launch Uplift projects in villages by Prof. R.C.Sobti, Vice Chancellor, Panjab University.
Dr. Prabha Vig, Assistant Professor, DLLLE; Mr. Rakesh Sharma and Mr. Balwinder Sharma, both Sarpanches from Khuda lahora and Khuda Jassu, respectively expressed their views on the need of literacy, women empowerment, and campaigns to be launched for the development of rural areas in U.T. Chandigarh.