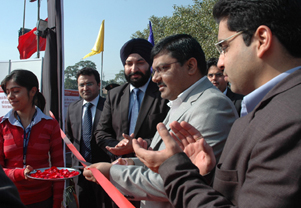 18 Dec : Event was inaugurated by Mr. V.P. Singh, IAS, Chief Administrator, GMADA, after enlighting the Camp Mr. V.P. Singh visited the stalls of all the participating builders and had good interaction with them regarding their existing and upcoming projects. He appreciated concept of bank of organsing such events where under Singh roof residential and commercial properties are available. He discussed the real estate scenario with senior officials of ICICI Bank, Mr. Manish Jaiswal, Regional Head, Retail, Mr. Sumit Goyal, Regional Head, Tax & Salary and Mr. Sundeep Bhatia, Regional Head, Mortgages.
The big players of real estate like EMAAR MGF, Omaxe, Unitech, Jaypee Greens, Gannon Dunkerley & Co. and local goods developers like Sushma Buildtech, Sandwoods, Bhoomi Greens, Savitry Heights, GBM Developers, Mirage Infra, Mittal's, Maya Greens, Manohar Singh participated to showcase their projects.
The event showcases property from leading real estate developers of the tricity. Attractive discounts are being offered by the builders on the property bookings done during the event alongwith spot sanctioning facility by ICICI Bank Home Loan Team.
The event showcases property from builders like EMAAR MGF who are dosplaying "The Villas" and "The Views" at Mohali Hills. Gannon Dunkerley & Co. Ltd. a builder of intimation at repute is showcasing two upcoming projects "Casbilla" and "Rosewoods". Sushma Builtech Limited is displaying various ongoing and upcoming projects like Sushma Urban Views, Sushma Attrium, Sushma Elite Cross and Sushma Platwing Towers. Mittal Township Pvt. Ltd. a recent enteract in Chandigarh Real Estate Scenario with "Paradise Apartments" also offered exclusive offers to the visitors.
Commercial office spaces are also in offing at the event, GBM Developers show cased "The Golden Square" at Zirakpur, Mirage Infra Ltd. with its project "Acropolis" in Chandigarh was a major source of attraction for visitors.
Teams from ICICI Prudential and ICICI Lombard also educated the visitors about the benefits of insurance. ICICI Property Search Group also provided other investment venues to the visitors.