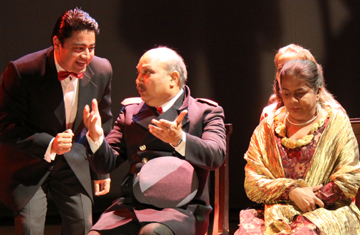 Chandigarh, April 1st: The second Chandigarh Arts and Heritage festival concluded with the presentation of a play "Chekhov Ki Duniya" by thespian Ranjit Kapoor at Tagore theatre today. The closing day of on going festival was inaugurated by the S.C Aggarawal, Chief Secretary Punjab in presence oh Ram Niwas Home Secretary and other senior officers of Chandigarh. During the day "In the Jungle of Cities" a documentary by Sanjay Maharishi was screened at Punjab University followed by a play in the evening.
"Chekhov Ki Duniya" is a collection of six short stories by Chekhov. The stories deal with human emotions in relationships. From trite boss-subordinate to sublime love relationships, from commonplace everyday contexts to unique situations, from the abyss of poverty-ridden survival to idle games of the rich, Chekhov has woven tales around everyday lives.
BESAHARA AURAT: It features a wild woman with a nervous disorder who tries to extort money from a banker. She comes as a complaining bank customer who claims to faint eight times a day and adds to the woes of a bank manager who is already suffering from unbearable pain.
DOOBA HUA AADMI: It is the story of a man who earns by "drowning". "The Drowned Man"claims to be in the "maritime entertainment business" and will drown himself for a small fee.
SHIKARI: shows a man-about-town using a husband as the conduit for his attempted seduction of the man's new bride, Irena. He gives an instructional session on seducing women and claims to be "the greatest seducer of men's wives of all time".
CHEENK: The story is filled with irony. It includes "The Sneezer" who cannot apologize enough to a blustering general for splattering a sneeze on his head at the opera. What follows is the obsequious terror of the "Clerk" who cannot redeem himself of the guilt and fears demotion.
SURGERY: Story of a man with a toothache faced with what look like medieval instruments of torture and an inexperienced dental assistant who attempts his first tooth examination.
THE GIFT: A tale of a very concerned and dedicated father who thrusts his shy, 19-year old son into manhood by taking him to a house of ill repute, only to relent at the last moment and leave the boy more perplexed than ever.
Shri Ranjit Kapoor is well known also as a translator and adaptor of plays, and an actor and a writer of screenplays. He has directed a number of television serials including Basanti, Ameer Khusro,Chekhov ki Duniya, Face in the crowd and Chaye Ke Bahane He has written dialogues for popular films such as Jane Bhi Do Yaron, Mohan Joshi Haazir Hon,Woh Saat Din, and Bandit Queen, as well as screenplays for Ek Ruka Hua Faisla, Khamosh ,Lajja, The Legend of Bhagat Singh, Mangal Pandey,Halla Bol and other films. He has also written songs and composed music for several films.Recently he has directed his first feature film starring Rishi Kapoor,produced by Bobby Bedi. The film received The Stardust Awards for the best feature film and Best direction.He is a recipient of the Sahitya Kala Parishad Samman of Delhi (1991-92), Shikhar Samman conferred by the Government of Madhya Pradesh (1999), the Sansui Award for the dialogue of The Legend of Bhagat Singh (2002)and Sangeet Natak Akademi Award 2006.