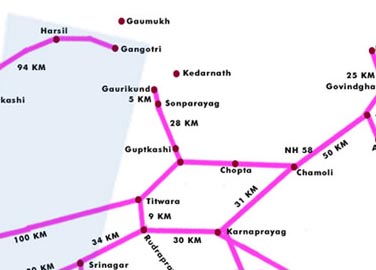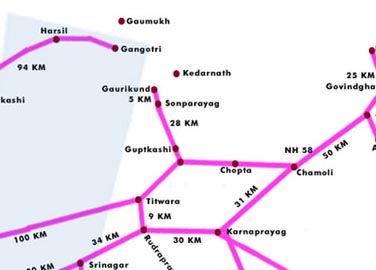 Rescuers found 40 bodies floating in the Ganges river near Haridwar on Friday taking the death toll to 207 in the massive flooding in Uttarakhand, as they intensified efforts to evacuate 50,000 people still stranded in different inaccessible parts of the hill state.
Nearly 34,000 stranded people were evacuated in operations on a war footing launched by multiple agencies including the Army, IAF and ITBP since the heavy monsoon rains pounded the state a week ago.
The IAF deployed 13 more aircraft for relief and rescue work, taking to 43 the total number of planes in operation.
The aircraft including IAF's heavylift Mi-26 helicopters – the world's largest chopper- for transporting fuel and heavy equipment required by the Border Roads Organisation (BRO) to clear roads closed due to landslide and also set up an airbridge in one affected area to pull out stranded persons.
As the terrible magnitude of nature's fury continued to unfold and survivors spoke of untold miseries, the death toll was expected to rise with Uttarakhand Principal Secretary Rakesh Sharma saying casualty figures can be "shockingly high".
Efforts were also underway to rush food packets amid reports that hundreds of survivors did not get anything to eat for days.
"So far, 207 people have lost their lives. But the toll may go up as debris in many areas is yet to be cleared", Home Minister Sushilkumar Shinde said in Delhi. "We have evacuated 34,000 people from various parts of Uttarakhand but 50,000 people are still stranded," he said after a review meeting on the situation in Uttarakhand.
In Haridwar, 40 bodies of those killed in the flash floods and incessant rains were found. "40 bodies have been recovered from different points along the Ganga since last evening and taken to the district hospital where each of them is being given a number and an identification tag," Senior Superintendent of Police Haridwar Rajeev Swaroop said.
Information and Broadcasting Minister Manish Tewari said IAF has deployed 13 more aircraft taking to 43 the number of aircraft involved in relief and rescue operations Rescuers were focussing on rain-ravaged Kedarnath area where 250 people are stranded before shifting focus to Badrinath where 9,000 people are stuck, officials said.
Terming it as the "worst tragedy of the millennium", Agriculture Minister Harak Singh Rawat said, "It will take us at least five years to recover from the extensive damages caused to the entire infrastructure network in the Kedarnath area which is the worst affected".
Rawat, who had visited the Kedarnath area, said, "The centre of faith has turned into a burial ground. Bodies are scattered in the area. Only the sanctum sanctorum is intact," he said.
The IAF has also activated advanced landing grounds at Dharasu and Gaucher and set up an airbridge to evacuate stranded persons.
Besides the Army, personnel of the Sashastra Seema Bal, Indo-Tibetan Border Police, National Disaster Relief Force, BRO have been engaged in search, rescue and relief efforts.
Efforts were also on to operationalise in the next 24 hours 207 mobile towers out of 739 such installations in the three affected districts of Chamoli, Rudraprayag and Uttarkashi. The 207 mobile towers were knocked down by the fury of the floods.
Petroleum Ministry has set up aircraft refuelling centres at Rampur, Shimla and Gaucher and efforts were being made to make available LPG cylinders to people in affected areas.
"Trucks carrying LPG cylinders have been despatched from refuelling depots at Haridwar and Haldwani on June 17, 18 and 19," Tewari said, adding supply of motor spirit, diesel and superior kerosene oil was also being augmented.
In Himachal Pradesh, rescue operations were on to evacuate stranded people in rain-hit Kinnaur district with two dedicated choppers pressed into service even as reports of more people stuck in interior Pooh, Nako and Kaza areas poured in.
Two IAF choppers and one state chopper had been deployed for evacuating the stranded but one chopper has developed some problem.
"So far over 550 people have been airlifted but the number is steadily increasing with reports of more people struck at different places, pouring in. Helicopter sorties have also been planned for Pooh, Nako, Kaza and other interior places," officials said.
Most of the mobile towers restored in Uttrakhand: Indus
Indus Towers said most of its mobile towers in rain-ravaged districts of Uttarakhand have been restored, and over 100 personnel are working round the clock to supply diesel at the sites to keep them running.
"Out of the total 668 towers sites in the affected areas of Uttarakhand, 400 sites were in Dehradun, Tehri, Joshimath, Rudraprayag, Uttarkashi and Rishikesh. Out of which Uttarkashi and Rudraprayag are the worst affected districts. Most of the sites have already been restored," Indus Towers COO Bimal Dayal said in a statement.
Over 100 personnel of Indus Towers have been working round the clock by splitting into small teams and supplying diesel at various affected sites by using helicopters and restoring mobile connectivity, the statement said.
"Nearly twice the running cost per tower has been incurred to ensure uptime of towers under the severe rain conditions," the company said.
Torrential rains and flash floods in various parts of Uttarakhand have severely impacted mobile infrastructure in the state.
"The major challenge at hand was not only to maintain and run the towers, but also to ensure that there is no power disruption to tower sites … it was critical for us to provide uninterrupted service," Indus Towers CEO BS Shantharaju said.