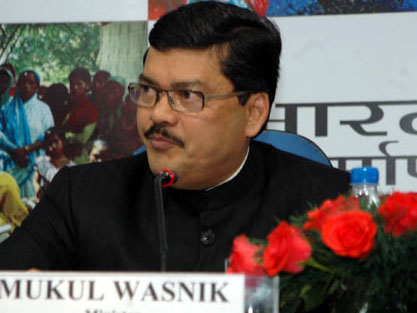 18 Jan : The Union Minister of Social Justice & Empowerment Shri Mukul Wasnik addressed the 10th Editors' Conference on Social Sector Issues (ECCSI) here today. On this Occasion, the Minister of State Shri. D. Napolean and Secretary (SJ&E) Shri K. M. Acharya were also present.
Following is the text of the speech of Shri Mukul Wasnik at the Conference :
" I thank the PIB for providing our Ministry the opportunity to interact with the editors and senior writers on social sector issues. On behalf of the Ministry of Social justice and Empowerment, I welcome you all to this conference. I am sure that our interaction would not only be very fruitful but the aims, objectives, schemes and programmes as well as the achievements of the Ministry will also adequately reach the public at large through the print media.
2. Ministry of Social Justice & Empowerment deals with five target groups, namely, Scheduled Castes, Other Backward Classes, Persons with Disability, Senior Citizens and Victims of Alcoholism and Substance Abuse. These groups collectively, constitute at least 60 per cent of the total population of India. The Ministry, thus, has a pivotal role in extending its support to a substantial segment of the population. We are following a three pronged strategy consisting of the educational, social and economic development of Scheduled Castes (SCs), Other Backward Classes (OBCs) and Persons with Disabilities (PwDs). Additionally, rehabilitation of persons with disabilities and victims of substance abuse and well being of senior citizens is an important element of our programmes. The Eleventh Plan Allocation for our Ministry is Rs.13043 crore. The budgetary allocation for 2009-10 is Rs. 2500 crore, of which around 76% is for social, educational and economic development of Scheduled Castes. Our utilization of plan funds has consistently been more than 98% of our budgeted outlay in recent years.
3. Scheduled Caste Development
3.1 The Ministry of Social Justice & Empowerment is the nodal Ministry to oversee the development and empowerment of the Scheduled Castes. Though the primary responsibility for this rests with various Central Ministries and State Governments and Union Territory Administrations, the Ministry of SJ&E has nodal responsibility in this regard, and also supplements their efforts by way of interventions like scholarships, hostels, concessional loans, etc. The Ministry also monitors the efforts made by State Governments/ U.T. Administrations and Central Ministries in development and empowerment of the Scheduled Castes.
3.2 Towards their social Empowerment and in furtherance of Article 17 of the Constitution by which untouchability was abolished and its practice in any form forbidden, the Protection of Civil Rights Act, 1955 was enacted in order to enforce the Constitutional provision. Subsequently, another Act called, the Scheduled Castes and the Scheduled Tribes (Prevention of Atrocities) Act, 1989, was enacted and brought into force on 31.01.1990. This aimed at preventing commission of offences by persons other than Scheduled Castes and Scheduled Tribes against members of Scheduled Castes and Scheduled Tribes. Comprehensive Rules under this Act, titled "Scheduled Castes and the Scheduled Tribes (Prevention of Atrocities) Rules, 1995" were notified in the year 1995, which, inter-alia, provide norms for relief and rehabilitation. Responsibility for implementation of the Act primarily vests with the respective State Governments. The Minister, SJ&E has carried out a number of high level reviews with groups of states as well as individual states to ensure effective implementation of these two Acts.
3.3 Eradication of the practice of manual scavenging is an area of priority for the Government. For this purpose, the Government has adopted a three-pronged strategy consisting of (i) Administration of the employment of Manual Scavengers and Construction of Dry Latrines (Prohibition) Act, 1993; (ii) conversion of dry latrines into water seal toilets and (iii) rehabilitation of manual scavengers and their dependents, into alternative occupations. A 'Self Employment Scheme for Rehabilitation of Manual Scavengers' (SRMS) was introduced in January 2007 with the objective of rehabilitating remaining manual scavengers and their dependents in a time bound manner. Under the Scheme, identified beneficiaries are provided loan, at subsidized rate of interest, and credit linked capital subsidy for self employment projects. As per progress reports received from states ending 31.12.09, 69137 beneficiaries have been provided loans for alternative occupations, and about 13700 identified beneficiaries remain to be covered. All efforts are being made to rehabilitate the remaining beneficiaries by March 31, 2010.
3.4 For the educational empowerment of SCs, the Ministry is implementing a number of scholarship schemes, free coaching as well as assistance for construction of hostel facilities for SC boys and girls studying from school to college level. The Post-matric scholarship scheme, which is a flagship scheme of the Ministry, provides financial assistance to over 35 lakh SC students studying at post matriculation level. The Ministry is currently spending about Rs 750 crore annually under the scheme.
3.5 Special Central assistance is given to the States/UTs as an additive to their own Scheduled Castes Sub Plan to give a thrust to family oriented schemes of economic development of SCs below the poverty line. About 6 lakh families are benefitted from this annually. National Scheduled Castes Finance and Development Corporation (NSFDC), an apex corporation under the Ministry, provides concessional loans including micro credit to the Scheduled Castes families living below double the poverty line for various income generating activities.
4. Development of OBCs
4.1 Financial assistance is provided to States and UTs for scholarship schemes for OBC students as well as for construction of hostels for OBCs.
4.2 National Backward Classes Finance and Development Corporation (NBCFDC) – another apex corporation under the Ministry, gives concessional loans to OBC families, who are below double the poverty line, for various income generating activities such as agricultural and allied activities, artisan and traditional occupations, technical trades, small scale and tiny industry, transport services etc.
5. Disability
5.1 In pursuance of the provisions of the Constitution, several initiatives have been taken by the Government for the empowerment of persons with disabilities from time to time. This has resulted in a fundamental change from a welfare model to a rights based approach to all the issues concerning the lives of persons with disabilities. Promotion of greater accessibility and barrier free environment for them is a prime objective of the Ministry and it is the first among the Central Ministries to have re-designed its website making it accessible to persons with disabilities. Other Ministries and their associated organizations are also expected to rapidly follow suit. To encourage the development of "accessible" websites, the Ministry has instituted a new category in its Scheme of National Awards for the Empowerment of Persons with Disabilities under which three awards – one each for government, public and private sector websites will be given every year for the best "accessibility" features.
5.2 The Persons with Disabilities (Equal Opportunities, Protection of Rights and Full Participation) Act in 1995, paved the way for realization of the rights of persons with disabilities. It is now nearly 15 years old and needs several amendments so as to harmonize it with UN Convention on the Rights of Persons with Disabilities to which India is a signatory and which came into force in May 2008. A series of consultation meetings were held during 2007-08 and 2008-09 in various parts of the country with stakeholders, to elicit suggestions for amending the Act. We have placed a comprehensive amendment proposal on the Ministry's website and are consulting State Governments, Central Ministries and stakeholders on this draft, which is expected to be finalized in the next few months.
5.3 The Ministry has a scheme of giving assistive aids and appliances to persons with disability. These are provided free to beneficiaries with a monthly income of Rs 6500/- and at 50% of the cost to those with a monthly income between Rs 6500/- and Rs 10,000/-. The scheme is implemented through NGOs, recommended by the State Governments, as well as the seven National Institutes working under the Ministry. About 2 lakh persons with disabilities are covered under the scheme annually.
5.4 There are seven National Institutes under the Ministry working in the field of disability, viz. three working for loco motor disabilities, one each in area of visual, mental and hearing disabilities, and one in the field of multiple disabilities. These institutes are engaged in human resource development in the field of disability, provide rehabilitation services to persons with disabilities and also carry out research and development. About 5 lakh persons are provided rehabilitation services annually by these National Institutes.
5.5 Under the Deendayal Disabled Rehabilitation Scheme (DDRS), Ministry gives financial assistance to NGOs, for running various rehabilitation activities like Special Schools and Vocational Training Centres. About 2 lakh beneficiaries are covered under this scheme annually. Financial norms under the scheme have been revised from the current financial year.
5.6 A new Scheme of Incentives to Employers in the Private Sector for Providing Employment to Persons with Disabilities was launched in 2008-09 under which payment of employer's contribution to the Employees Provident Fund and the Employees State Insurance Corporation for the first three years, is made by the Government of India, in respect of persons with disability appointed by such employers on or after 01.4.2008.
6. Senior Citizens
6.1 As per 2001 Census, total population of Senior Citizens (60+) was 7.7 crore, which is projected to increase to 17.3 crore in 2026, and a corresponding rise in its share from 7.5% to 12.4% of the total Population. Ensuring that they not merely live longer, but lead a secure, dignified and productive life is a major challenge. A National Policy on Older Persons (NPOP) was announced in January 1999. As ten years have passed since then, we have decided to undertake its comprehensive review in the coming months.
6.2 The Maintenance and Welfare of Parents and Senior Citizens Act, enacted in December, 2007, have been brought into force by 22 States and all UTs. The Act makes maintenance of parents/senior citizens by their children/legal heirs obligatory and justiciable through Tribunals. It also provides for revocation of transfer of property by senior citizens in case of negligence by relatives, penalty for abandonment of senior citizens, establishment of Old Age Homes for indigent Senior Citizens and adequate medical facilities and security for Senior Citizens.
6.3 Under its Integrated Programme for Older Persons, the Ministry assists NGOs for establishing and maintaining Old Age Homes, Day Care Centres and Mobile Medical Units, Help lines etc for senior citizens. About 33000 senior citizens benefitted under this programme last year.
7. Substance Abuse
7.1 Alcohol and substance abuse has emerged as a serious concern in India. The geographical location of the country further makes it highly vulnerable to the problem of drug abuse. A National Consultative Committee on De-addiction and Rehabilitation Services (NCCDR) under the chairmanship of the Minister (SJ&E) was constituted in 2008 which, in its very first meeting, recommended that a national policy for prevention of alcoholism and substance abuse and rehabilitation of its victims be formulated. A Sub-committee of NCCDR is currently drafting the national policy.
7.2 The Ministry also implements a Scheme of Prevention of Alcoholism and Substance Abuse, under which assistance is given to NGOs for running Integrated Rehabilitation Centres for Addicts (IRCAs), Regional Resource and Training Centres (RRTCs), awareness generation activities etc. Over a lakh of victims of substance abuse are rehabilitated under the scheme annually.
8. Other Activities
8.1 Every year, the Ministry gives National Awards for outstanding work in the areas of disability and welfare of senior citizens. It has also instituted National Awards for work in the empowerment of Scheduled Castes.
9. Media have an extremely important role to play in empowerment of disadvantaged sectors – by spreading messages of non-discrimination, government schemes, human rights etc as also by highlighting success stories of high achievers belonging to these sections. We look forward to working closely with the media in our joint quest for ushering in an egalitarian, just, humane and caring society."