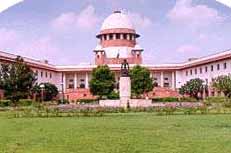 23 Sep : The Supreme Court has stayed for a week the Ayodhya title suit verdict that was due to be pronounced by Allahabad High Court on Friday and will hear the plea for deferment of the judgement next Tuesday.
The Supreme Court's decision on Thursday came after an appeal to the stay on the judgment, saying the matter could be settled out of court.
The court also issued notice to all the parties to the title suit and asked the attorney general to be present in the court when the case is heard on 28th September.
Ramesh Chandra Tripathi, a retired bureaucrat, had filed a petition in the Supreme Court asking it to postpone the ruling on an ownership fight over a religious site in Ayodhya.
A bench of the apex court comprising Justices Altmas Kabir and A K Patnaik had on Thursday declined to hear urgently the plea to postpone the Ayodhya title suit verdict.
While refusing to hear the petition filed by retired bureaucrat Tripathi, the bench had said that it did not have the "determination" to take up the issue and added that it will be listed before another Bench.
Mukul Rohatgi, senior counsel appearing for Tripathi, said the Supreme Court may give a healing touch by attempting a last-ditch effort at mediation.
He said it was possible that in the face of Supreme Court notices the rival parties may sit across to find an amicable solution.
Rohatgi said that next Tuesday his side would try to tell the court that the matter of judgement should be deferred so that religious, political and national leaders could try and work out a solution.
He also said it was not a matter of just 10 or 20 parties in the case but related to lakhs and crores of people and the mediation could result in some way out.
Tripathi had on Thursday moved the apex court five days after the High Court's Lucknow bench rejected his petition for deferring the verdict and to allow mediation to find a solution to the contentious dispute.
The central government has been on alert for any fallout from the verdict, appealing for calm. It banned public meetings in the state and bulk mobile text messages that could be used to spread rumours and plan riots.