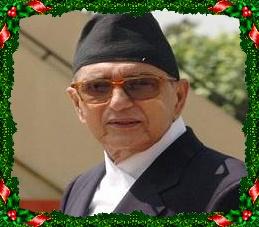 20 Mar : Nepal's five-time Prime Minister Girija Prasad Koirala, a close friend of India and architect of the landmark peace deal with Maoists that ended a bloody decade-long insurgency, died in Kathmandu on Saturday of multiple organ failure at the age of 85.
Koirala died at 12.10 pm local time at his daughter and Deputy Premier Sujata Koirala's residence in Mandikhatar on the outskirts of Kathmandu, Nepali Congress Vice President Gopal Man Shrestha said.
Prime Minister Manmohan Singh condoled the death of former Nepalese Premier G P Koirala and said the late leader had an enlightened vision of India-Nepal relations.
The veteran leader, who was the President of Nepali Congress which is a key constituent of the ruling CPN-UML-led coalition, was considered close to the Indian leadership across the political spectrum.
He was suffering from lung infection, respiratory problem, diarrhoea and had a low hemoglobin level. He had been staying at his daughter's residence after he was discharged from Martyr Ganga Lal Heart Centre in Kathmandu following some improvement in his condition on Wednesday.
However, his condition deteriorated on Friday after a bout of diarrhoea and he slipped into coma this morning.
Koirala's body will be put at Dasharath Stadium on Sunday morning for people to pay their homage and his last rites will be performed later in the afternoon.
The former Premier had played a pivotal role in the peace process, Nepal's transition to democracy and bringing Maoists to the mainstream politics three years ago.
Koirala was instrumental in the signing of the 12-point agreement between the then Maoist rebels and seven political parties in November 2005 in New Delhi, which was aimed at toppling monarchy and restoring democracy in the country.
After this, Maoists joined the mainstream politics in 2006, ending the decade-long armed conflict that left 16,000 people dead.
Born in 1925 in Bihar, Koirala became Prime Minister for the first time in 1991 after his Nepali Congress party secured majority in the 205-member House of Representatives.
He began his political career as a trade unionist when he joined the Nepal Mazdoor Congress in 1948 and played an active role in the first labour movement of Nepal the same year.
Koirala's eldest brother Matrika Prasad Koirala became the country's Prime Minister in 1951 while his another sibling B P Koirala was the Premier in the first elected government of Nepal during 1959-60.
G P Koirala was arrested after King Mahendra staged a coup by dissolving the first democratically elected government led by Nepali Congress in 1960. After his release in 1967, Koirala went in exile to India where he stayed till 1980, when King Birendra declared Referendum to choose between revised partyless Panchayat system and multi-party system.
Koirala was the Nepali Congress General secretary from 1975 to 1991. He was elected President of Nepali Congress in 1994 during the ninth general convention of Nepali Congress.
He also became acting head of the state briefly after monarchy was abolished in May 2008.
It was Koirala who proposed the motion to abolish monarchy through voting during the first meeting of the Constituent Assembly on May 28, 2008, which was endorsed by an overwhelming majority in the 601-member House.
Manmohan Singh condoles Koirala's death
Describing Koirala as one of Nepal's "tallest leaders and an elder statesman of South Asia", Dr Singh said in a condolence message that Koirala worked sincerely to bring the people of the two countries closer.
"I have personally had a long association with Shri Koirala and have benefitted immensely from his wise counsel and advice not only on issues affecting our bilateral ties but also on matters affecting South Asia as a whole," he said.
Dr Singh said Koirala was first and foremost a democrat and his long struggle to usher in democracy in Nepal reached a successful conclusion when he became the first democratically elected Prime Minister of Nepal in 1991.
He subsequently guided the destiny of the Nepalese people for further three years as Prime Minister, Dr Singh said, adding Koirala was a mass leader and a statesman, whose knowledge and wisdom guided the polity of Nepal in the "right direction at critical junctures in the country's history".
The passing away of Koirala marks the end of an era in Nepalese politics, he added.