Opposition  Bharatiya Janata Party on Tuesday sought to corner the government over alleged irregularities in land deals involving Robert Vadra, disrupting Parliament and demanding probe by a Special Investigative Team.
BJP members created storm in both Lok Sabha and Rajya Sabha by demanding a debate on the issue, which was rejected by the government.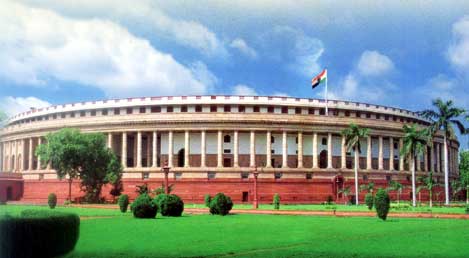 The uproar led to repeated disruptions of both the Houses.
However, BJP did not get support from other parties, with Samajwadi Party and BSP, outside supporters of UPA, saying Sonia Gandhi could not be blamed for any alleged irregularities by Vadra.
Left parties said all cases of corruption, whether any individual or any corporate is involved, must be probed and the guilty punished. These issues must also be discussed in the House.
Raising the issue in the Lok Sabha, Yashwant Sinha (BJP) said, "Though there are several business schools which teach models of making money, there is one highly connected person who did not go to any such school but has given a model where no investment is made but windfall gains of thousands of crores are made."
Seeing the apparent reference to Vadra, Congress members were on their feet in protest. Sanjay Nirupam walked into the Well and protested against BJP's charge.
Parliamentary Affairs Minister Kamal Nath and his deputy Rajiv Shukla, both seated in the front row, were on their feet. BJP members countered them from their seats.