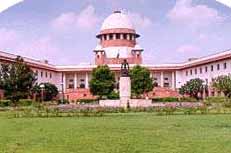 Supreme Court has given a four week notice to senior BJP leader L K Advani and 19 others to reply on a CBI petition challenging the 2010 Allahabad High Court order discharging them of criminal conspiracy in the case of demolition of a disputed structure in Ayodhya on December 6, 1992.
A bench of Chief Justice H L Dattu and Justice Arun Mishra heard the Central Bureau of Investigation's appeal which was last listed before the apex court February 5 when it was directed to be listed for final hearing on "1st April, 2014 before an appropriate bench".
Though the matter is pending before the apex court since March 3, 2011, but it for the first time came up for hearing after formation of the Narendra Modi government at the centre.
While challenging the Allahabad High Court Order, CBI had cited the court's earlier order of 2001 and contended that the 2010 order was not consistent with its earlier order.
Besides Advani, other accused include senior Bharatiya Janata Party leaders MM Joshi, Vinay Katiyar, Uma Bharti, former Uttar Pradesh chief minister Kalyan Singh, Vishwa Hindu Parishad leaders Ashok Singhal, Giriraj Kishore, Hari Dalmiya, Sadhvi Ritambrara, and Mahant Avaidyanath.