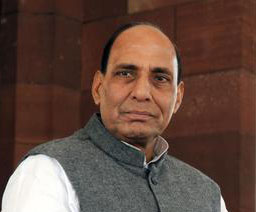 No power on earth can stop BJP from getting majority in Lok Sabha elections, party president Rajnath Singh said.
"People have given a clarion call for change. As BJP national president, I have come to the conclusion that people of India have made up their mind that there is a need for 'parivartan' (change)," Singh said.
"There is an outcry against Congress," the BJP leader said at the 'Mahagarjana' rally organised by his party in Mumbai on Sunday.
Ridiculing Congress as only eight of its candidates were elected in the recent Delhi Assembly elections, Singh said a Toyota Innova was big enough to carry all the Congress MLAs around.
"If our government is formed (after the Lok Sabha polls), we will encourage the manufacturing sector and strengthen the rupee," Singh said.
BJP chief targeted Maharashtra's Congress-NCP government over corruption.
"Adarsh, Campa Cola society scam, irrigation scam…It seems as if the Maharashtra government has become a government of scams. The Adarsh panel report was rejected saying it was done so in public interest. Can there be a public interest in corruption," he said.
Congress has become a shield for corruption, he said.
"Congress people say, can a tea vendor (Modi) become the Prime Minister? Barack Obama has sold ice cream, Abdul Kalam sold newspapers, Lincoln cut wood. If they can reach pole position, why not Narendra Modi?," Singh asked.
"Congress people call us chor (thief) and jahrili (poisonous) party, maut ka saudagar (merchant of death). But we don't get angry. We get angry when we realise our borders are shrinking, when Pak soldiers behead our jawans, when China makes incursions, when US does not give us Headley," he said.
Singh also flayed Congress for seeking to claim credit for Lokpall Bill passage.
"Those immersed in corruption, claim they passed Lokpal. I would like to give credit for Lokpal to Anna Hazare. Congress, which jailed Hazare, is claiming the credit," he said.
"I want to ask the crowd, can you assure us at least 46 of the 48 LS seats from Maharashtra," he said.
Singh paid tributes to Bal Thackeray, who passed away last year.
Former BJP president Nitin Gadkari said, "Congress will get finished and Modi will be the PM after the elections."
He alleged that the CBI was working in the interest of Congress.
Senior BJP leader Gopinath Munde said, "In Lok Sabha elections, we will elect at least 33 MPs from the state, including all six from Mumbai."
Earlier, Modi, accompanied by Rajnath Singh, reached the rally venue at 1.15 PM.
He was presented a huge garland, with BJP workers shouting the slogan: 'Dekho dekho kaun aya, Hindustan ka sher aya'.
State BJP leaders presented a cheque of Rs 25 crore to Singh. Mumbai-based Consuls of some countries too attended the event.
The party had taken back the invite sent to the US Consul General in Mumbai in the backdrop of Devyani Khobragade issue.