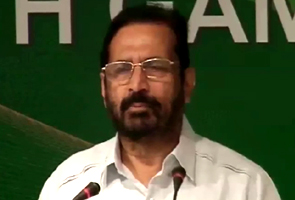 4 Aug : With controversy deepening over alleged corruption in Commonwealth Games projects, Congress virtually backtracked from its remarks giving a clean chit to two Union Ministers and the Delhi Chief Minister and distancing itself from IOA chief Suresh Kalmadi.
"We have neither given any clean chit nor any unclean chit to anybody. We are neither holding any brief for anybody nor indicting anybody," party spokesperson Manish Tewari said at the AICC briefing.
Tewari's comments were significant as they were at variance with those of his colleague Shakeel Ahmed, who had told the party briefing on Tuesday that the integrity of two Union ministers M S Gill and S Jaipal Reddy, who are looking after Games-related works, is "beyond any doubt" while Delhi CM Shiela Dikshit "is also of very impeccable integrity".
He had also said Congress MP Suresh Kalmadi is not there as a party representative but as the Chairman of the Indian Olympic Association.
"Serious charges have been levelled against the Commonwealth Games Organising Committee….As the Chairman, he will reply to them," Ahmed had said.
Tewari's tone was different.
"We are not making any value judgement…if concerns been have raised, they have to be answered constitutionally and statutorily," he said.
He said that Ahmed might have made those comments responding to questions in a certain context.
Tewari said if any decision has to be taken on the fate of Kalmadi, "it is for the Association to take."
The Congress spokesperson said at this point, everybody should step up their efforts and get the job done to fulfil the country's "international commitment" about holding the Games.
"If at all, a post-mortem on the efficacy of Games, its impact on India's image and its building capacity is to be done, it can be done after the Games," Tewari said when asked to comment on Congress leader Mani Shankar Aiyar's criticism of the Games.
Asked about the Opposition's demands for an independent probe into the matters, Tewari shot back saying, "Is the CAG not independent."
He also said that there is "an inherent and in-built mechanism of investigation in the CAG's functioning" and stressed that the process (of investigation) which is going on should be allowed to continue.
(SP-04/08)
Under-pressure Kalmadi says ready for CAG or judicial probe
Cornered by allegations of corruption in the Commonwealth Games' preparations, under-fire Organising Committee Chairman Suresh Kalmadi has said he is ready to face any CAG or judicial probe into the financial transactions related to the event.
"I, as Chairman of the Organising Committee, am prepared to face any scrutiny by (Comptroller and Auditor General) CAG or even a judicial probe for all financial transactions being reported by the media. All the people found guilty will be punished and brought to book," Kalmadi said in a statement on Wednesday.
Kalmadi's statement came a day after more allegations of irregularities and the Indian High Commission's e-mails being 'doctored' came to light. The Congress party also distanced itself from the Pune MP.
Kalmadi reiterated that the all transactions were carried out by the full approval of the OC's various finance committee and he did not have any individual say on these matters.
"The financial procedures at the Organising Committee are well laid down and transparent. Any proposal that is prepared by the Functional Area Head first gets vetted by the OC Finance Committee which has two representatives of Government of India, and after that it is referred to Finance Sub-Committee, comprising of three Senior representatives of Government of India," he explained.
"Thereafter, the proposals are submitted to the Executive Board for its final approval. Chairman OC, in his individual capacity, does not have any financial powers," he added.
Kalmadi said, nonetheless, he has taken note of the various reported bunglings.
"60 days are left for the start of XIX Commonwealth Games 2010 to be held in New Delhi and 43 days for Games Village to open when about 8000 athletes and Officials from all continents of the world start arriving to participate in the Games," Kalmadi said.
"During the last week, media has come out with various stories regarding the irregularities in the orders/ procurement etc. of QBR Launch Function at London/Overlays and association of M/S Sports Marketing and Management (SMAM) in obtaining the Sponsorship for the games.
"I have taken a serious note of these reports and appointed a three member committee headed by Mr. Jarnail Singh, the Chief Executive Officer and two members, Mr. G. C. Chaturvedi, Special Director General and Ms. Gurjot Kaur Chief Vigilance Officer of Organising Committee to look into all the details of QBR Launch Function, Overlays and SMAM issues. The Committee has been asked to submit its report by August 5, 2010," the statement read.
The Indian Olympic Association chief was left red-faced on Tuesday when the Ministry of External Affairs said that the e-mails from the Indian High Commission that he made public to justify huge payments to a UK-based firm were 'doctored'.
His back against the wall, Kalmadi has been isolated in the OC as well with some his own colleagues demanding an emergency meeting to discuss allegations of corruption, which have also been highlighted in a Central Vigilance Commission report.