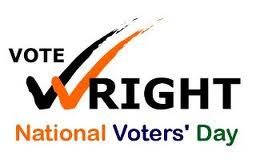 The objective of the day is to increase citizen's participation in the electoral process, more specifically to enroll the newly eligible youth who have just attained the age of 18 years in the electoral rolls.
According to data released by the Election Commission, over 2.32 crore citizens have been registered under the enrollment drive conducted by the Commission across the country ahead of the 3rd National Voters' Day.
Of them, around 93 lakh voters are in the age group of 18 to 19 years.
School and colleges, news agencies, Indian Railways and Rural Development Ministry have been carrying out awareness campaign about the voting Rights of individuals.