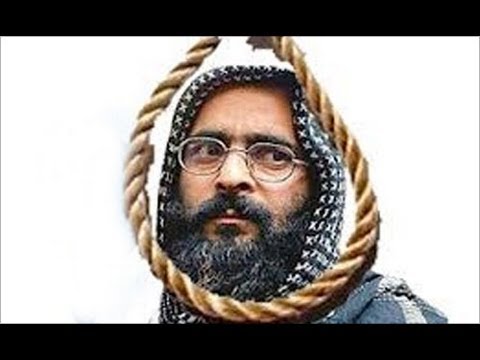 Mohammed Afzal Guru, convicted of involvement in the audacious attack on Parliament in 2001, was on Friday hanged and buried in Delhi's Tihar Jail, six days after a mercy plea was rejected by the President.
43-year-old Guru, a medical college drop out and resident of Sopore in North Kashmir, was executed at 8 AM and buried in the prison premises in a secret operation.
On the death row for over 10 years after conviction for his role in aiding and abetting the attack, a special court had sentenced Guru to death in December 2002 which was upheld by the Supreme Court on August 4, 2005.
The body of Guru, who was found guilty of conspiring and sheltering the militants who attacked Parliament on December 13, 2001 in which nine people were killed, was buried in the prison premises as per the jail manual.
Apprehending possible backlash, an indefinite curfew was clamped in the Kashmir Valley and security beefed up.
Jammu and Kashmir Minister Omar Abdullah, DGP Ashok Prasad and other senior officers flew from Jammu to Srinagar early this morning to keep a close watch on the law and order situation.
"Afzal Guru was hanged at 8 AM," Home Minister Sushilkumar Shinde told reporters shortly after the execution.
Guru was taken to the gallows at around 7.30 AM and he appeared calm, a top Tihar Jail official said.
His family was informed about the decision of the Government that his mercy petition has been rejected.
This was done through speed post, Union Home Secretary R K Singh said.
Guru's mercy plea was rejected by President Pranab Mukherjee on February 3.
"I examined the file carefully and recommended to the President on January 21 for rejection of Afzal Guru's petition," the Home Minister said.
Political parties welcomed the decision as rule of law taking its course while BJP questioned the delay in the execution.
With this curtains have been drawn into the most heinous attack on the symbol of Indian Democracy.
Information and Broadcasting Minister Manish Tewari said that UPA government will never shy away from taking any decision with respect to internal security of the country.
He was speaking at the Think Edu conclave going on in Chennai.
Manish Tewari said that due process of law was followed in the case of Afzal Guru and he was given to exercise his right to plead for clemency from the president after being given fair trail in all the three stages of our judicial system.
Hanging of Afzal Guru has been welcomed by a wide cross section of society.
Congress Party has welcomed the decision and said that the government is firm in its resolve to stamp out terrorism.
Main Opposition Parties, the BJP and Left have also hailed the hanging of Afzal Guru.
Prominent religous leader Maulana Firangi Mahal from Lucknow has also welcomed the hanging of Afzal Guru, terming him as an enemy of humanity.