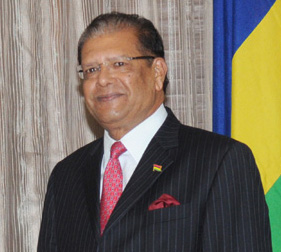 Mauritius President Rajkeswur Purryag is among the 15 persons and organisations selected for the Pravasi Bharatiya Samman awards for this year.
Purryag, who has ancestral roots in India, has been selected for his public service, Union Minister for Non-Resident Indian Affairs Vayalar Ravi said announcing the awards today.
President Pranab Mukherjee confered the awards to his Mauritian counterpart and others at the valedictory session of the 11th edition of Pravasi Bhartiya Divas, India's annual event to connect with its diaspora, in Kochi on Wednesday evening.
Purryag was also the Chief Guest at the three-day annual event that began on January 7 and concludes today.
The other awardees are Prof Dr Gurusharan Singh Chhatwal of Germany for science, Dr Rasik Vihari Joshi (Mexico) for Literature, Gilbert Canabady Moutien (Reunion Island) and Mohammed Rabeeh Karuvanthodi (Saudi Arabia) for business, Patricia Maria Rozario(UK) for Music, Dr Narendra Ramakrishna Kumar (USA) for Healthcare, Subash Razdan (USA) and Islmail Ebrahim (South Afrcia) for Public service.
Dr Satendra Kumar Singh (New Zealand), Australia India Society of Victoria (Australia) and Bava Pandalingal (UAE), Ashok Shambhomal Vaswani (Guinea), Indian Doctors Forum, Kuwait for community service, Tan Sri Ravindran Menon from Malaysia for Community service, are among others on the list of awardees.
Speaking on the occasion Mr. Mukherjee called upon Indian Diaspora to play a decisive role in the county's journey to becoming a strong, just and equitable society and in taking its rightful place in comity of nations.
Delivering the valedictory address at the Pravasi Bharatiya Divas in Kochi this evening he urged Overseas Indians to help in building a knowledge society, while continuing to engage culturally and emotionally.
Noting that the revival of investment rate in the country is a must for the economy to regain its eight per cent plus growth levels the President urged the assembled Diaspora to help in the process by investing in Indian companies and by establishing new ventures.
He expressed hope that the resilent character of the country's economy will help it to reverse the declining growth rate being experienced now.
Mr. Mukherjee urged the diaspora to lend a helping hand to the needy.