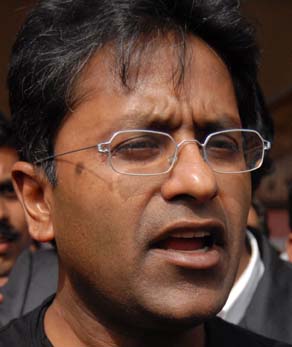 22 Apr : IPL Chairman Lalit Modi on Thursday questioned by a joint team of Income Tax and Enforcement Directorate officials probing alleged financial irregularities by the T20 cricket body and its franchises.
Officials of the two agencies began the exercise around 8.30 this morning at Modi's office at upscale Four Seasons hotel in central Mumbai and later shifted the venue to the IPL top honcho's office at Nirlon House in Worli.
It is for a second time in less than 24 hours that Modi is being questioned by the IT. He was also quizzed last Thursday about IPL bidding process and issues relating to franchisee owners.
Last night the IT officials had questioned him barely hours after its sleuths searched the premises of three entities associated with the hugely successful cricket entity.
BCCI rejects Modi's contention, to go ahead with Governing Council meeting
The BCCI has rejected IPL Chief Lalit Modi's contention that the 26th April IPL Governing Council meeting was illegal and made it clear that it would go ahead with the meeting as per schedule.
The BCCI also disagreed with Modi's stand that secretary N Srinivasan could not convene the Governing Council meeting merely because he is part of an IPL franchise.
BCCI President Shashank Manohar said it is not a question of owner. He said N Srinivasan is not calling the meeting as an owner of the team and in the board constitution; the secretary is the convenor of all meetings.
Manohar also said that while BCCI was aware of Srinivasan's stakes an IPL franchise, it was unaware that Modi's relatives and friends had stakes in the franchise and deals.
Manohar said Srinivasan was a declared bidder. If Modi and his relatives had a share in any of the franchises, he ought to have declared it at the meeting.
Modi had questioned the legality of the Governing Council meeting on 26th April saying that he alone had the power to convene such a meeting by virtue of being the IPL chairman.
Modi wanted the meeting to be convened on May 1 as he wanted time to compile all the documents and prepare his defence.