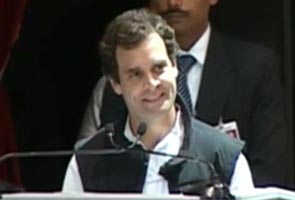 Describing the Food Security Bill as historic, Congress leader Rahul Gandhi asked partymen to take its message to grassroots and prepare the people to fight for their legal entitlement.
"We have given them a right. You prepare them to fight," was the message of Gandhi's brief speech at the opening of a meeting of PCC chiefs and CLP leaders of all states on the food security issue even as partymen clamoured against Opposition parties appropriating central government schemes in many states.
The meeting, which was also addressed by Union Ministers Jairam Ramesh and K V Thomas, saw demands for naming the food security law after late Prime Minister Rajiv Gandhi and giving a greater say to Congressmen in its implementation in opposition-ruled states.
Gandhi said Congress, after fulfilling committments like Right to Education, Right to Information, Right to Employment (MNREGA), Right to Identity (Aadhar), has brought Right to Food.
"This is for the first time in the history of the country that any government is legislating to give a right to food to citizens…you take the message in blocks and villages," Gandhi told the participants.
As concerns were raised over anomalies in the PDS system, Gandhi expressed confidence that since the bill gives legal entitlemnents to people, it will build pressure on the existing institutions and bottom-up changes will happen.
"His idea is that the legal right will fix the loopholes in the PDS. Giving it a legal status will put pressures on the system and bottom-up changes will happen," said a participant.
"We must first understand the whole thing and then party cadres should help people understand it. Government of India is bringng this bill which will revolutianize the life of people at those strata where people have struggled," Jammu and Kashmir PCC chief Saifuddin Soz quoted Rahul Gandhi as having told the meeting.
He also said the bill was not suddenly brought as an Ordinance. "We had made the promise in 2009. We brought the Ordinance after opposition parties did not allow its passage in Parliament," Gandhi is learnt to have said.