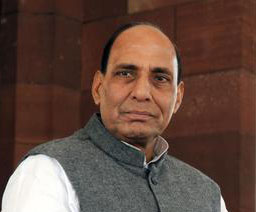 A day after China reacted sharply to government's plans to construct a border road in Arunachal Pradesh, Home Minister Rajnath Singh has sent a strong message asserting that no one can warn India.
"Today, no country can give warning to India. India has emerged as a strong country in the world. As far as Indo-China border issue is concerned, I think China should sit with India and resolve this issue," he told reporters on the sidelines of the Raising Day event of elite counter-terror force NSG in Manesar on Thursday.
Singh was asked about China's strong reaction to plans to construct a road network along McMahon line from Mago-Thingbu in Tawang to Vijaynagar in Changlang district of Arunachal Pradesh to match China's infrastructure development.
Government is taking a number of steps for improving infrastructure along the Sino-Indian border, especially in Arunachal Pradesh and Jammu and Kashmir.
Forces of the two countries were locked in a stare-down at Chumur in Ladakh for a fortnight beginning 11th September.
For days, soldiers of the Chinese PLA and Indian Army personnel were engaged in an eyeball-to-eyeball confrontation in the area.
Prime Minister Narendra Modi raised the matter twice with the Chinese president.
Tension erupted when some Chinese workers crossed over with equipment to build a road five kilometre deep inside the Indian territory.
A marathon flag meeting between the two armies facilitated an end to the stand-off.
The Home Minister on Tuesday reviewed the prevailing situation along the 3,488 km-long border with China and steps being taken to stop incursions in future.
About the recent blasts in Burdwan, the Home Minister said NIA was probing the incident effectively.
He said the agency can take up cases for investigation suo moto and there was no need for a recommendation of any state for the NIA to wait for.
Asked about the possibility of BJP forming government in Haryana, Singh said, "looks like it" and went on to add that the Parliamentary panel of the party will meet after the counting of votes on 19th October.
He also said that the Supreme Court-appointed SIT on blackmoney, which was notified by the new Cabinet, is working effectively to achieve its aim of curbing illicit funds and their generation.