Government on Friday said forces will give a "befitting reply" if they are attacked and announced that it will fully fund the formation of elite commando force in states to deal with the menace.
Home Minister Rajnath Singh, who met top civil and police brass of ten states affected by Left Wing Extremism, told them that enough funds will be provided to equip and modernise their respective police forces.
"There is no question of any talks now. We will take a balanced approach. But the forces will give a befitting reply if the Naxals launch attacks," Singh told reporters after chairing a high-level meeting.
A Home Ministry official later said talks with the Maoists will be held only if they shun violence and come forward for a dialogue.
Chief Secretaries and DGPs of Chhattisgarh, Jharkhand, Bihar, Odisha, West Bengal, Madhya Pradesh, Uttar Pradesh, Maharashtra, Andhra Pradesh and Telangana and chiefs of paramilitary forces like CRPF and BSF and top officials of the Home Ministry attended the meeting.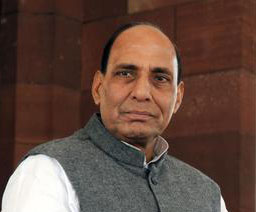 The new Home Minister was briefed by each of the states about the Maoist menace in their respective areas as Singh spelled out the priorities of the NDA government.
During the meeting, the Home Minister asked all states to adopt a uniform and concerted approach to tackle the Maoist movement.
The states assured him of their full support to the central government's initiatives in this regard, the official said.
The government made it clear to the states that any attack by the Maoists should be retaliated effectively even as it asked the states to allocate more funds for new projects in the affected areas.
Singh said that the Home Ministry will fully fund formation of special forces on the lines of the elite anti- Naxal force Greyhounds of Andhra Pradesh and initially such squads will come up in the four states of Chhattisgarh, Odisha, Jharkhand and Bihar.
The nearly four-hour long meeting also decided that the central government will micro-manage the ongoing road construction works in Naxal-affected states for their better and time-bound completion.