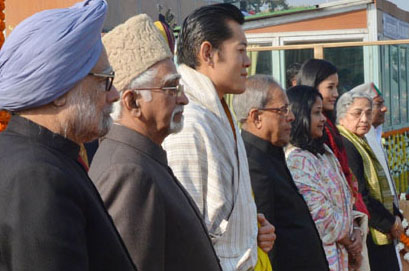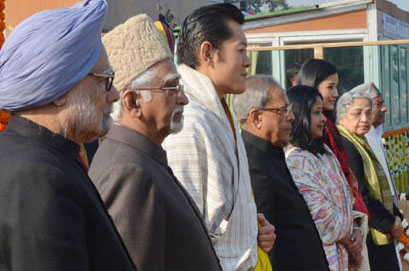 India's 64th Republic Day celebrations began with Prime Minister Manmohan Singh paying homage to the unknown soldier at the India Gate war memorial in the heart of the capital.
With the three service chiefs in attendance, Manmohan Singh was greeted on arrival at the World monument by defence minister AK Antony.
As the prime minister laid a wreath at the Amar Jawan Jyoti eternal flame, an honour guard reversed arms and the buglers sounded the Last Post, after which two minutes silence was observed.
The Rouse was sounded and Manmohan Singh then signed the Visitor's Book before heading back to the saluting base on Rajpath to welcome Bhutan King Jigme Khesar Namgyel Wangchuk, chief guest at the Republic Day Parade, and other VIPs.
A kaleidoscopic view of the country's rich cultural heritage and military prowess were on display at the 64th Republic Day parade today on the 8km stretch from Rajpath to Red Fort.
An eager audience on both sides of the imposing Rajpath, the country's ceremonial boulevard facing the seat of power Raisina Hills, braved the winter chill and cheered loudly as the parade went past them portraying the rich and diverse culture of the country.
The icing on the cake was the 5,500-5,800 km ballistic Agni-V missile mounted on a road mobile launcher which was paraded by the Defence Research & Development Organisation as the crowd lapped it up with loud cheer.
General Officer Commanding (Delhi) Lt General Subroto Mitra led the synchronised military and police contingents as they marched to the cheerful tunes of bands through the 2-km Rajpath where President Pranab Mukherjee, also the Supreme Commander of the Armed Forces, took the salute for the first time after assuming office in July last year.
The impressive march-past was watched by chief guest, Bhutan king Jigme Khesar Namgyel Wangchuck, vice president Hamid Ansari, Prime Minister Manmohan Singh, defence minister AK Antony, UPA Chairperson Sonia Gandhi and top political and military brass.
Police and other para-military forces turned Delhi into a a virtual fortress for the Republic Day celebrations as helicopters scanned from air, snipers kept a hawk-eye vigil from rooftops and armed personnel at every nook and corner provided a ground-to-air security apparatus.