A moderate intensity earthquake, measuring 5.2 on the Richter scale shook Jammu and Kashmir's Kishtwar and Doda districts and parts of the Valley on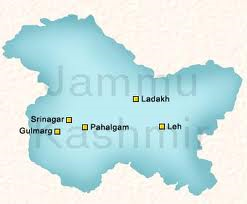 Saturday, a day after a similar quake hit the region.
The quake, measuring 5.2 on the Richter scale, hit the area around 3.08am on Saturday, Met officials said.
The quake lasted for 9 seconds, and was followed by two aftershocks measuring 3.7 and 2.9 on the Richter Scale at 4.12am and 3.12am on Saturday respectively, they said.
The epicentre of the quake was 12 kms north-east of Kishtwar area and 78 kms south-east of Anantnag (Kashmir Valley) of Jammu and Kashmir.
There was no immediate report of any casualty or injury reported from anywhere, the officials said.
However, the quake and aftershocks triggered fear psychosis and panic among the people, who rushed out of their homes and spent the night in the open in Kishtwar and Bhaderwah belts of Chenab Valley.
According to reports, there were cracks in the houses due to tremors and after-shocks in Bhaderwah mountain-locked valley.In May this year, Bhaderwah and its adjoining areas witnessed 37 tremors.
In July, there were as many as five quakes in Bhaderwah, Doda, Kishtwar areas.
Five quakes and aftershocks have been witnessed in the same area in August.
On Friday, a moderate quakes of 5.4 Richter Scale hit Kishtwar, Doda, Bhaderwah and parts of Kashmir around 8.03am.