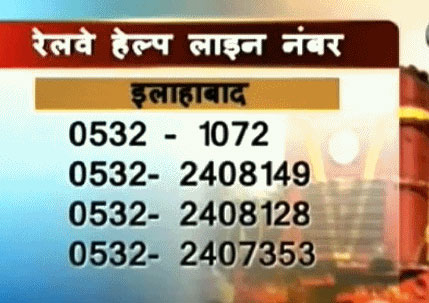 36 persons have been killed and 39 others injured in a stampede at Allahabad railway station teeming with thousands of pilgrims returning after a holy dip at the Maha Kumbh last evening.
Divisional Railway Manager of Allahabad, Harindra Rao, said 10 people died at the station itself while the remaining 12 succumbed to injuries on way to hospital.
Rao also said over 20 people are undergoing treatment at the Railway Hospital and the SRN Hospital in the city and the condition of 15 of them is stated to be critical.
The stampede occurred at 7 PM when Platforms No 5 and 6 were packed with thousands of passengers.
Eyewitnesses said the stampede at Platform No 6 was triggered near a foot overbridge when hundreds of passengers rushed to board a train whose arrival was being announced in a public address system. Platform No 6 was later sealed by authorities.
The bodies of some of the victims shrouded in white cloth were kept at the platform for several hours.
Preliminary reports said the stampede broke out when the railing leading to a footbridge collapsed but Railways Minister P K Bansal discounted such a possibility saying this had not happened.
Bansal said overcrowding at the platforms may have led to the stampede.
Railway Minister said that arrangements for additional trains are being made to clear the heavy rush.
The ministry has also set up helplines.
Helpline Numbers:
Delhi – 011-23342954, 23341074, 24357660
Allahabad – 0532-1072, 0532-2408149, 2408128, 2407353
Kanpur – 0512-1072, 0512-2323015, 2323016, 2323018
A police officer said an estimated 4,000 people were present at one single point at the site where the stampede occurred.
UP Govt orders probe, announces ex-gratia
The UP government ordered an inquiry into the stampede and asked the Railways to make proper arrangements to clear rush of devotees and sanctioned an ex-gratia of Rs five lakh to the kin of each of the dead persons.
"The state government has ordered an inquiry into the entire incident. The 'snan' at Kumbh was completed without any problem…the unfortunate incident took place at the railway station..Chief Minister AKhilesh Yadav has ordered an inquiry into the incident", SP spokesman and cabinet minister Rajendra Chowdhury said.
Chairman Revenue Board has been asked by the Chief Minister to inquire into the incident and submit his report to him.
Over three crore people had converged for a holy dip on the occasion of 'Mauni Amavasya' on Sunday, a day considered the most auspicious day during the 12-yearly congregation.
A total of 112 trains routinely passes through Allahabad and an additional 49 special trains were being operated on Sunday.A majority of the dead was thought to be women and elderly men.
Some of them rolled down the stairs amid the jostle by passengers to reach the departing train.It is feared that the toll may go up since the condition of some of the injured were in a critical condition.