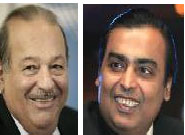 11 Mar : Mexican billionaire Carlos Slim has emerged as the richest person in the world with USD 53.5 billion in assets, while Indian industrialist Mukesh Ambani ranks fourth with USD 29 billion in the US magazine Forbes annual list of world's top billionaires.
Slim is followed by William Gates III (popularly known as Bill Gates) with a net worth of USD 53 billion and Warren Buffet at the third spot with assets worth USD 47 billion.
NRI billionaire Lakshmi Mittal with a net worth of USD 28.7 billion ranks fifth while Mukesh's younger brother Anil Ambani is at the 36th spot with USD 13.7 billion.
There are 1,011 billionaires in the world now, up from 793 a year ago.
Gates has held the top spot for 14 of the past 15 years in the past. "The Microsoft founder is now worth USD 53 billion, up USD 13 billion from a year ago," Forbes said.
There are just two Indians in the list of top 10 richest persons across the world.
Following is the Forbes list of 25 richest persons in the world.
Rank Name Net Worth (in $ bln)
1 Carlos Slim Helu & family (Mexico) 53.5
2 Bill Gates (US) 53
3 Warren Buffett (US) 47
4 Mukesh Ambani (India) 29
5 Lakshmi Mittal (India) 28.7
6 Lawrence Ellison (US) 28
7 Bernard Arnault(France) 27.5
8 Eike Batista (Brazil) 27
9 Amancio Ortega (Spain) 25
10 Karl Albrecht (Germany) 23.5
11 Ingvarkamprad & family (Sweden) 23
12 Christy Walton & family (US) 22.5
13 Stefan Persson (Sweden) 22.4
14 Li Ka-shing (Hong Kong) 21
15 Jim Walton (US) 20.7
16 Alice Walton (US) 20.6
17 Liliane Bettencourt (France) 20
18 S Robson Walton (US) 19.8
19 Prince Alwaleed Bin Talal (Saudi Arabia) 19.4
20 David Thomson& Family (Canada) 19
21 Michael Otto & family (Germany) 18.7
22 Lee Shau Kee (Hong Kong) 18.5
23 Michael Bloomberg (US) 18
24 Sergey Brin (US) 17.5
25 Charles Koch (US) 17.5