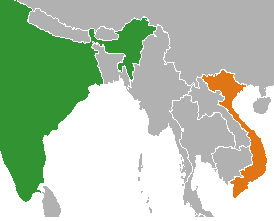 10 Apr : As part of initiatives to improve connectivity between Northeast India and Southeast Asia, the government is considering a rail link from Manipur to Vietnam, Union minister Shashi Tharoor Friday said.
"Efforts are underway to have a rail link from Jiribham (close to the Assam border) to Hanoi in Vietnam passing through Myanmar," Tharoor told a seminar 'From Land Locked to Land Linked: Northeast India in BIMSTEC' in Shilong.
The Union minister of state for external affairs said improved connectivity between the Northeast and the Southeast Asian countries will not only help the region to discover a larger market, but also will integrate India with the those countries.
"The Asian Highway Network which is being coordinated through the United Nations Economic and Social Commission for Asia and the Pacific office in Bangkok, envisages a comprehensive network of roads connecting the countries of Asia. There is separately an East-West Highway Project running from Vietnam through to Myanmar, through which India could get access to all mainland Southeast Asian countries," he said.
He underlined that from India's perspective, the Trilateral Highway Project between India, Myanmar and Thailand, was very critical. "The project is under construction. Thailand and India in fact have completed construction of the link roads on either sides," he said.
According to Tharoor, some portions of the internal road connectivity in Myanmar remains to be completed and that country has requested for grants and funding to enable this project to be completed which will eventually link the Northeast to the East West Highway and the Asian Highway Network.
The requests, he said, are under consideration of both India and Thailand.
"We are also working on enhancing digital connectivity with the Southeast Asian region. An optical fiber cable link between Morek in Manipur and Mandalay in Myanmar is being set up," he said.