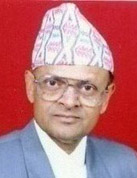 By Dirgha Raj Prasai : Hindu Darma is the most personally expansive and psychologically empowering religion on earth. It is a path that teaches its followers to be fearless, dedicated, focused, strong, assertive, self-controlled, virtuous, self-reliant, and to strive for excellence in all endeavors. It teaches us how to be civilized. Vedic-Hindu can only empower us is such a manner, however, when the full philosophy and lifestyle of religion is actually followed and practiced in daily life. Hindu is a religion of the possible. It is a tradition that teaches us that anything and everything that we can dream is attainable. We, Hindus are radically free to perform any positive task, to reach out boldly toward any constructive goal, to achieve any vision that our imaginations can reveal. Hindu religion is more democratic and frees us from the bonds of ignorance and fear that bind us, and gives mighty wings to realize our inner yearning for peace, joy, and unlimited freedom.
The ancient Vedic Hindu religion is the genesis of civilization. Vedic traditional Hinduism of the old age is the devotee of the Panchadeva (five Gods). 'Omkar Jagat (followers of OM) is the devotee of Vedic Hindu traditions. The worship of Gods and Goddess- Ganesh (an elephant headed God), Bhagawati (Goddess), Surya (Sun), Shiva (Lord Shiva) and Bishnu (the creator of the world), is compulsory for one who is facing crisis. We confer respect to one another on account of the ancient Vedic Hindu religion. Among all religions of the world, Hindu religion is considered as an ancient religion that is recognized as the foundation of civilization and as the most liberal democratic way of life. When present India (Hindustan) was not in existence, there were more than 25 nations, 250 years ago, the great King Prithvi Narayan Shah expressed –"Nepal is true Hindustan."
Hinduism is the mother of all religions. But we in Nepal are trying to dig up a well though there already is water in our rivers. 'OM' is a symbol of Vedic Knowledge. Hindus, Buddhist's Mantra. It provides a fine example of Symbolism. Symbolism is needed in all fields of human knowledge like science, religion and politics. Spoken sounds of words are expressed as Alphabets and Numbers with Symbols by writing. 'OM' and 'OM Mani Padme Hum' is a language of Sanskrit. The Gayatri Mantra is a highly revered mantra in Hinduism- is applied from Baidik period which is written in Sanskrit: 'Om ! Bhur Bhuvah Svah ! Tat Savitur VarenyamBhargo Devasya Dheemahi Dhiyo Yo Nah Prachodayaata'= 'Let us meditate upon the glory of Ishwar (God), Who has created this Universe, Who is fit to be worshipped, Who is the remover of all sins and ignorance. May He enlighten our intellect?' This Gayatri Mantra is useful for all religions and human being in the world.
Muslim and Christian religions took birth long after the creation of Hindu religion and its civilization. It is proved that Jesus was influenced on Vedic Hindu philosophy. And He had traveled again and again in this pious-land-Nepal & India. We can see a tomb of Jesus Christ kept in Kashmir. Christ traveled through what is now Nepal and India from 13-30 years seeking religions teachings. There are facts that suggest he read Vedic teachings in Kashi, Jagannath, Bihar and Nalanda. He went to Lumbini and visited mountains of Kumbakarna, Gaurishankar and Mt. Everest south of Tibet. It is mentioned in the Sanskrit language in a Puran (theology) book. It is also mentioned in this theology 'The mother of Jesus was pregnant in younger age before her marriage.' We can see the similarity between Kuntee and Mary so Jesus Christ represents Karna. Kuntee bore a child Karna before her marriage.
'The mother of Jesus Christ Mary had become pregnant before she had married. The problem was solved when she accepted one carpenter Yusuf (Joseph) as her husband. First he denied accepting her. Let it be- Jesus Christ came to India at the age of 12/13 with businessmen. He spent some days with Jainmuni (sage) in Rajasthan. Then he studied Ved in Kashi and Jagannathpuri. He achieved enlightenment through meditation in India. Jesus Christ preached on love, benediction, compassion and mercy by learning from ancient Vedic Hindu religion. He has shown honor to Veda in his books. He believed in Bhramh (the creator), Bishnu( the preserver and protector), Maheshwor (manager of truth, beauty & wellbeing) and 'OM'. The word 'OM'later changed into 'Omen'. The manuscript of Christ can be read at the 'Summit University' in France. The tradition that precedes a birth, death, marriage and christening in Churches by priests and pastors corresponds with the Hindu traditions. There is a hexagon of Hindu Goddess 'Saraswati' (Goddess of Intellect) in the national insignia of Israel's Jews.But, Christians and their flowers have forgotten the facts.
'Every religion exists on certain beliefs. Hindus are also assumed exist on such fictitious beliefs, though the reality of Hindus are based purely on either empirical observational conclusions or on scientific derivation of logics about life, nature and God Hinduism is
considered as "Way of Life" as it talks purely about work, knowledge, devotion, life, standards of living and realization of God within us. How has this happened then that the owner of such high knowledge is worshipping idols in ignorance? Whether we speak different language or practice different cultural tradition, in front Pasupathinath Temple in Nepal or Kanyakumari Temple in Kanyakumari, we speak the same spiritual language-'OM: Nava Sivaya !
'Hinduism is all-embracing, and gives the same respect to all humans, and anything to the contrary in Manu Smriti or anywhere else is not sanctioned by the Vedas. Being divine revelation, Shrutis (Vedas) are the ultimate authority for Dharma, and represent its eternal principles whereas being human recapitulations, Smritis (Recollections) can play only a subordinate role. 'Vedas are the most precious Gift for which West had ever been indebted to East' – Francois. M. Voltaire the western renowned philosopher Voltaire, George Bernard Shaw, German scholar Nitse, Megasthaniz and Fai-Han has written many books supporting the Hindu philosophy expressing the evolutionary process of the world's civilization. Hindu philosophy is incomparably greater intellectual work than the Bible?
If we want to know the greatness of Hinduism, we can see The Great Wall of China, "the seventh wonders of the world" has a fourteen feet long Sanskrit incantation engraved on the western gate. Mongolian emperor Kublai Khan had written 'OM Namo! Bhagawati' including others in the 14th century. The Chinese Great Wall has many syllables from 'Mahabharata' written on the doors in Sanskrit language. It is not a common thing that the language was written in Kalipinya letters. NEWSWEEK COLUMNIST Ms Lisa Miller says-'we are all Hindus. The Rig Veda, the most ancient Hindu scripture, says: "Truth is one, but the sages speak of it by many names." A Hindu believes there are many paths to God. The most traditional, conservative Christians have not been taught to think like this. They learn in Sunday school that their religion is true, and others are false. Let us all say "OM." when you chant "OM," it will resonate not only in the room but down through the ages.' May 13, 2010 at > http://www.newsweek.com/id/237910
'1)The first written evidence of Hinduism that we can read is the Rig Veda, a long poem in Sanskrit probably composed about 1000 BC. People sang or recited the Rig Veda for hundreds of years before it was written down around 300 BC. The Rig Veda is a bunch of hymns (HIMS) (songs for the gods), magic spells, and instructions for what to say when you are sacrificing animals. The Rig Veda mentions many different gods (polytheism). Most of the gods are male, and many of them are sky gods or weather gods like a god of rain, Indra, or like Varuna, the god of the sea. People sacrificed animals to their gods. The Rig Veda also tells us that people sometimes got in touch gods talking to them. (We don't know now what soma was made of). Both Soma and the fire of sacrifice (Agni) were thought of as gods themselves, too. About 600 BC, the idea of reincarnation became more and more common among Hindus. Most people began to think that after you died you would be reborn into another body.
2) If you had been good, and lived in accordance with dharma, you would get a good body, like a princess. If you had been bad, you would come back as a cockroach or a rat. Gradually people began to hate the idea that you had to be endlessly reborn in different forms. They wanted to get free of the wheel of rebirth, and just be left alone. People began to think that sacrificing animals was a burden on your karma, or fate that prevented you from getting free of reincarnation. Around 300 BC, people began to worship new gods, who didn't need animal sacrifices. These new gods were Vishnu and Shiva. Generally people gave Vishnu and Shiva flowers, incense, prayers, fruit, or music, but they didn't kill animals for them. They began to worship Vishnu and Shiva more, and paid less attention to their old gods Indra and Varuna and the others. One example where they're sacrificing fruit is the story of how Ganesh cursed the moon. Much later, between 400 and 650 AD, at the end of the Gupta period, another new god came into Hinduism.
3) This new God was a Mother Goddess. Cows were sacred to this Mother Goddess, and so Hindus gradually stopped eating beef. Like Vishnu and Shiva, the Mother Goddess had many incarnations and many names. Parvati, Uma, and Annapurna were beautiful goddesses, who brought blessings to people. But other incarnations were called Kali, Chandi, Durga or Chamunda, and these goddesses were terrible giants with black skin, huge red tongues that stick out, and fierce tusks. These had many arms and each arm held a weapon, and they wore necklaces of skulls or human heads.' (Google's online).
'Vedas are the most precious Gift for which West had ever been indebted to East' – Francois. M. Voltaire the western renowned philosopher Voltaire, George Bernard Shaw, German scholar Nitse, Megasthaniz and Fai-Han has written many books supporting the Hindu philosophy expressing the evolutionary process of the world's civilization. Hindu philosophy is incomparably greater intellectual work than the Bible? A famous scholar Emmelin Plunret says-'They were very advanced Hindu astronomers in 6000 BC.-Vedas contain an account of the dimension of Earth, Sun, Moon, Planets and Galaxies.' Another scholar P. Johnstone- 'Gravitation was known to the Hindus before the birth of Newton. The system of blood circulation was discovered by them centuries before Harvey was heard of.' A scholar Deepak Ganju writes-'Hinduism, oldest and third largest religion of the world, has about one billion adherents and Moksya (liberation) is its ultimate goal. There are about three million Hindus in USA.' Hinduism is spreading smoothly in all over the world as a democratic religion.
Hindu society is the only society that propagated the slogan of 'Vasudeva Kutambakum' (world is a family) at the dawn of civilization, implying that entire universe is one large family where everyone has to play the assigned role for the well being of all. The Hindus' scriptures encouraged equality, freedom of mind and expression, self-discipline and righteous values for a just and equitable society to provide social justice. The Hindus society had and has adopting the principle of universal well-being, equality and brotherhood in her customs, traditions, rituals and festivals.
Nepal and India are only the two pious Hindu countries in the world. We Nepalese hope that India- a neighbor, a friend, and a largest Hindu community must stand with us in this issue. If the royal institution is reinstated in Nepal, I am sure most of problems would be solved. We can reinstate peace. And thus, we can assure our neighbors about their security concerns. The union of monarchy and democracy is best political option for Nepal. The recent past experience of our national life has again and again proved this fact. The monarchy is essential not only for our internal issues, but also for security concerns of our neighbour countries. So we must respect Nepal's monarchical system and for that we must enthrone the King.
This year India has witnessed the historical victory of nationalist patriotic power as a democratic practice of world's largest democracy. We hope the strong Hindu leader Prime minister of India Sri Narendra Modi, a visionary leader will do his best to create the new dimensions and harmonious relation between Nepal and India. Due to the nefarious intervention of Congress (I) and its RAW, since 2006, Nepal is in crisis. All Nepali people want India be supportive in reinstating the world Hinduism and constitutional monarch. The Nepalese monarch always has goodwill with India. The fact is that the Nepalese monarchs held special right for carrying out ritualistic worship in many Hindu shrines and temples in India. Then, India's Hindutwa also can be dignified.