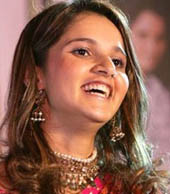 By Tanveer Jafri : At the age of 16, when Sania Mirza became the first Indian tennis player to win the Wimbledon Junior Championship, since then the adjective 'sensation' was linked to her name. Besides her game, her attractive dresses also made 'sensation' when they were objected by some Indian Muslim clerics. At that time, the entire nation was with Sania and these mullahs were told not to concentrate on her clothes but her game. However, Sania has again made a 'sensation' by marrying the 'notorious' Pakistani Cricketer Shoaib Malik.
Marriage is certainly a very personal decision of the person getting married & his family. But when a person becomes so popular as a result of his/her achievements that the entire nation starts following her and considering him/her as its property, in that case if any step by that person is in accordance with the wishes of her followers, then they also feel happy. Millions of fans of Sania Mirza were also curious about her married life to see whom she selects as her life partner. Some months ago, when Sania got engaged with her childhood friend Sohrab Mirza, then people lauded her for despite being a world fame tennis star, she decided to marry a non-famous person. While the people were waiting for the date of marriage, the news of Sania-Sohrab breakup came. It was another 'sensation' of Sania's life. Her fans digested this decision also. Her fans also wanted her to marry a person whose fame and personality could match Sania's.
Within a short time after breakup, one more news made 'sensation' that Sania is going to marry Pakistani Cricketer Shoaib Malik. In terms of popularity, certainly this couple is better. But just after this news, the way the stories of his character, cheapness and doublespeak came out, it further maligned the image of Malik who was already facing the charge of match fixing. Once again this compelled millions of Sonia's fans to think why and in what circumstances Sania did this? The sudden entry of Malik's ex-wife Ayesha Siddiqi in this whole episode was enough to open the eyes of Sania. But nobody knows why Sania was still committed to marry Shoaib Malik. Besides, her followers were also wondering whether a beautiful and famous Indian tennis player like Sania couldn't get a better match for her. As far as Shoaib Malik's bend towards Sania is concerned, it is normal thing because Sania is much more famous than him. Besides, in the present Indo-Pak environment, many Pakistani youths are marrying Indian girls. Shoaib's marriage to Ayesha was also similar, which Shoaib was unsuccessfully trying to deny.
Shoaib crossed his limit of cheapness when he called Ayesha, 'Maha Aapa' (elder sister) in front of the media. And when he saw that Ayesha has filed an FIR against him charging him of cheating and lying, police has forfeited his passport & his arrest is possible, he found it better to secretly divorce Ayesha instead of getting trapped into legal procedures. Now it can be asked from Shoaib whether he has divorced his wife Ayesha or his elder sister 'Maha Aapa'.
Comparing Sania's decision to marry Shoaib with his loose character, the fans of Sania who consider her as the daughter of India are in a shock. As far as Shivsena supremo Bal Thackeray is concerned, people don't notice his statements anymore. His statements are just like the cheap fatwas of mullahs. After marriage, whether Sania would play for India or Pakistan, or will not play at all, doesn't depend on Thackeray's order or permission.
Many Pakistani mullahs have also issued fatwas regarding the game of Sania. One such fatwa is that according to Islam, wife is bound by the decisions of the husband. So Sania will have to play according to the order of her husband. Now we will have to think that Shoaib would ask Sania to play for India? To remain away from the controversy, for the time being, Sania has said that she would play for India. And perhaps to support her statement, she first told the media that after marriage she would live in Dubai and not in Pakistan.
Anyway, as far as their respective sporting careers are concerned, both are not doing well now. While Sania's ranking has come down to 90 from 30, Shoaib Malik is facing a ban by the PCB in the charge of match fixing. If former Cricket player Sarfaraz Nawaz is to be believed, now Shoaib Malik would fix matches for Sania. But we Indians can never think such about our daughter. Despite that, we have right to think that in what circumstances Sania chose Shoaib Malik as her life partner? And whether she couldn't find a guy matching her personality? Now we can only pray for the bright future of the couple. We can hope that Shoaib won't see another 'aapa' in Sania Mirza following his habit. Moreover, nobody can stop us from saying that by marrying the Pak player Shoaib Malik, Indian 'sensation' Sania has ultimately broken the hearts of a billion Indians.