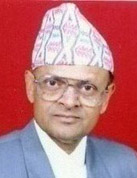 By Dirgha Raj Prasai : 'Om ! Bhur Bhuvah Svah ! Tat Savitur VarenyamBhargo Devasya Dheemahi Dhiyo Yo Nah Prachodayaata'= The Gayatri Mantra is a highly revered mantra in Hinduism- is applied from Baidik period which is written in Sanskrit: 'Let us meditate upon the glory of Ishwar, Who has created this Universe, Who is fit to be worshipped, Who is the remover of all sins and ignorance. May He enlighten our intellect?' Ms, Esha Deol has contributed showing Gayatri Mantra on her body.
We Nepalese people always want cordial and harmonious relation with India. But, Congress (I) had conspired internally to bring us pain. So we were suspicious of Congress (I) Sonia Gandhi and RAW's activities. We don't have bitter feelings towards Indian people. We were against the Indian Congress party led by Sonia Gandhi. When Congress (I) comes to power it has influenced the traitors within Nepal and used it against the interest of Nepal. Due to the nefarious conspirator role of Congress (I) and its RAW, Nepal was very difficulties on the verge of dismemberment in the last eight years. Nepal has been always showing goodwill towards India. Cordial people to people level relations between Nepal and India has existed since ancient times. We hope, BJP Govt. should have to change the nefarious design of former Congress (I) Govt. and it's RAW against Nepal to maintain the cordial relation with Nepal.
It is suggested, BJP Govt. and the Prime Minister of India Narendra Modi should decide the conspirator roles of South Block and RAW's against Nepal. To maintain the good relation with Nepal, I request to the BJP Govt. never involve the former nonsense Indian ambassadors in Nepal- Shyam Saran, KB Rajan, Rakesh Sood and Jayanta Prasad and present ambassador Ranjit Rea were the designers to terrorize Nepal. Due to the blunder of these Indian diplomats, the cordial relation between Nepal and India became unsatisfactory. So, to maintain the harmonious relation with Nepal, the evil elements must be boycotted by BJP Govt.
The essences of Nepalese nationalism are- Hinduism, constitutional monarchy and Nepali language. These three are typical identifying symbols of Nepal. Nepalese royal institution basically was known for national unity and patriotism. Nepal's sovereignty, integrity and national pride were addressed by monarchy. Nepal is not only an ancient sovereign country but also a Hindu Kingdom in the world. The small and pious Hindu and Buddha country, Nepal always seeks a permanent, loyal and respected permanent institution–the monarchy. The strategic and geo-socio-political situation of Nepal mandatorily demands the existence of monarchical institution in the country. The monarchy and Hindu Kingdom both are inter-related identified symbols of Nepal. Our concern is national stability, unity and complete democracy.
Since 2006, Nepal's situation has been gradually deteriorated. This is because our basic foundations are violated; consequently national unity and sustainable peace has not been achieved. The constitution is non-functional with the annulment of the constitution of 1990 that was suddenly suspended without any reason. The country has been unconstitutionally declared so called republic and secular state. This is in fact, foremost cause of the deteriorative situation of the country. Due to the eccentric corrupt characters of the party leaders in Nepal, the political, social and economic disintegration is continuing all over these days. They failed to understand the reality the country and desire of our people. They are traitors. The parties are choosing the ethnic lines to operate themselves to break Nepalese unity. This is tantamount to ping for a suicidal path. In fact, Americans and the Christian Europeans want to turn Nepal into a Christian nation. The vested interest of foreigners is to watch and spy India and China. They know Hinduism philosophy is one of the major tools for India to emerge as world power. They believe India can be weakened attacking Hinduism. Both Americans and Europeans want to unrest China through free Tibet politics.
The western countries think by this, they may reduce the influence of Buddhism in Tibet and China. As they are planned to exploit Nepal as base station, they want a control over the Nepalese administration. They think religion is best medium to penetrate. This is what they have already practiced and succeeded in Africa. The Nepalese monarchy of course, was major obstacle for them. Meanwhile in India, Sonia Gandhi (who is Christian and always against to Nepalese monarch) led congress regime came in power. With the common agenda, Americans, Europeans and then Indian Congress led government's intelligence acted upon Nepal. For this, they used some Nepalese party leaders as their puppets. And the game plan was implemented in the name of peoples' movement. So, the Hindu Nationalist Modi government of India must give its interest to keep intact the cordial relation between Nepal and India there must be in existence the Hindu Kingdom and constitutional monarchy in Nepal
Since 2005, in the name of Secularism, the foreigners specially- RAW, EU (Christian nations) & CIA are active in Nepal to abolish the Hindus identity for Christianity. Some leaders of Congress, UML, Maoist, these self-serving secularists– agents of foreigners, refuse to see that Theocracy is alive and well internationally. Just look at all the Islamic states, Israel, as well as many European states that proclaim them secular but practice hard-core evangelical proselytizing Christianity. So what was wrong with Nepal being the sole Hindu state in the world? 'OM' is a symbol of Vedic Knowledge- Hindus, Buddhist's Mantra. It provides a fine example of Symbolism. Symbolism is needed in all fields of human knowledge like science, religion and politics. Spoken sounds of words are expressed as Alphabets and Numbers with Symbols by writing. 'OM' and 'OM Mani Padme Hum' is a language of Sanskrit.
Two Hundred years ago, the great King Prithvi Narayan Shah had unified more than 54 small fiefdoms to build a large, expanded and strong Nepal. The British Empire, spreading in Asia, after getting hold of its influence in India had eyed on mountainous region of Nepal. At that time, it was not an easy task to fight British imperialistic force in the mid 18th century. Prithvi Narayan Shah, the great King, fought and won the British forces and saved the National sovereignty and Hindu identity. But, now Nepal is in danger position. Nepalese all around the world and Nepal's well-wishers are anxious about the conspiracy designed by some deviant party leaders (agents of RAW, EU (Christian nations) and CIA) 2006, against the Monarchy and Hinduism.
About 950 years ago the Muslims invaded India. Their aim was to conquer, convert, destroy and loot. Due to their notorious attacking they were successful. At that time Muslims burned many Hindus- temples and erected mosques on top of the burned out temples and on other locations also. In the ruling time of Muslim in India, English imperialist-East India Company invaded India with Christianity. They came first as traders, secondly-Bible and third was sword where they were building their own military force, secretly, to take over India and they were getting help from Great Britain to do so, and they succeeded. The British bribed the military by paying salaries to fight for them, to control Muslims. Many Sikhs, Indians joined the British military and betrayed Hindus-(Bhagavaandaas Tyaagi)
The number of temples destroyed under his orders is counted in four figures. Aurangzeb ordered all temples destroyed such as the Kashi Vishvanath that was one of the most sacred temples and a center of Hindu learning who had built by the first Lichavi King- Bikramaditya. The Mughal Emperor had mosques built on a number of cleared temples sites. All other Hindu sacred places within his reach also suffered destruction and mosques were built upon them. Then, Pratap Malla (Malla king of Nepal) built a temple of lord Shiv at Rani Pokhari- Kathmandu and wrote a lyric that Vishvanath is in here.'- (Chand Kumar Sharma). So, we request to all Hindu nationalists in the world including Nepalese and Indian people and party leaders not to minimize the reality of Hinduism and Buddhism, the basis of world civilization. We should be conscious to save the sovereign-identity of Hinduism in Nepal, India and in all over the world.
Nepal and India are only the two pious Hindu countries in the world. The Nepalese monarch always has goodwill with India. It is highly appreciable that current Indian leaders have made statements for our side. Here I want to quote some statements. Senior leader of B.J.P Lalkrishna Advani had said: 'The framework for constitutional monarchy in Nepal should be consolidated because monarchy is the symbol of Nepal's identity and sovereignty. Nepal should have an active and dynamic multi-party democracy'. Present Home minister and the BJP leader Rajnath Singh said- 'We used to feel proud that Nepal was the only Hindu kingdom in the world,' Singh said. 'I will be happy when Nepal is a Hindu state again. 'We used to feel proud that Nepal was the only Hindu kingdom in the world. 'I will be happy when Nepal is a Hindu state again. No one is appealing to the Islamic states of Pakistan and Bangladesh to become secular. But it was done in Nepal.' – 2010-3-22, in Nepal.
We Nepalese people hope the successful time of the visionary leader the Prime minister Sri Narendra Modi, to keep intact harmonious relation between Nepal and India. We believe Indo-Nepal relations will find new dimensions with new government of India. The deviant party leaders of Nepal can't format the new constitution. So there must be implemented the 1990 constitution. Bharatiya Janta Party, the Modi Govt. must support to restore the Hindu Kingdom with constitutional monarchy. The fact is that the Nepalese monarchs held special right for carrying out ritualistic worship in many Hindu shrines and temples in India. Then, India's Hindutwa also can be dignified. India should positive and supportive role. So, being identity and survival essence, Nepal must reinstate Hindu Kingdom and constitutional monarch.