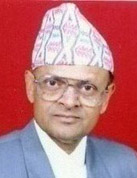 By Dirgha Raj Prasai : Nepal and India are only the two pious Hindu countries in the world. Nepal is the pious country in the lapse of the Himalayas, which is beautiful, quiet, the birth place of Buddha and origin land of Hindu kingdom. Besides being the country of Everest it is equally popular with its diverse cultural values. This is the land where civilization began and is also known as the country of 'SANGRILA.' Nepal is as holy place to Hindus & Buddhists, as Mecca for Muslims and Jerusalem to Jews and Christians.
Nepal is a country sandwiched between China and India. Because of its geo-political situation, Nepal's sovereignty has always been very sensitive. Nepal is rich culturally and naturally. Our successful foreign policy would be to maintain our culture, traditions and indigenous identities to balance between China and India. Actually, Nepal is a paradise which provides calmness and rejuvenation to the mind. This lovely place is also said as the potpourri of ethnicity and has many cultural landscapes. This land of bio-diversity has so many cultural and religious landmarks that give a soothing experience to everyone.
Prithvi Narayan Shah, the unifier of Nepal is the pride of Nepal. It was almost 100 years before unification of Germany (1868), Italy (1868), and the restoration of the Meiji (Japan, 1868) in which America was also under British dependency, that Prithvi Narayan Shah had already unified (1768) 54 small fiefdoms to build a large, expanded and greater Nepal. But after the movement of April 2006 and the party leaders came to power they smashed the statue of the great King, contempt and insulted him and called off the birth anniversary of the late king as a day of national unity. Why? A country's existence and prestige can gradually be eroded by finishing off its faith and belief tradition and culture and the creator of nation. If anyone wants the assurance of integrity and lasting peace in this country, one must not be confused about the country's century's old customs and religion traditions as well as the builder of nationality and unity.
Nepal was worthy to be bowed down by Hindus all over the world. This is the highest honor Nepal could receive from the international community. Nepal's prestige and honor would elevate further if this country is declared as "Hindu and Buddhist" country, instead of a secular state. But, at present why the peaceful country where Lord Buddha was born has become the venue of confrontations? The main causes of the crisis is the abolishing our culture and traditions. Some are going to abolish the creations of Prithbinarayan Shah and to destroy his statute. Similarly, some are active to minimize Hinduism and dismiss the existence of Buddha.
'Hinduism.' probably only Nepal and India are Hindu countries in the world. Hinduism and its cultural traditions have a long history spanning over a period of thousands and thousands of years and developed over several eras. It is understood that human civilization started to advance since the Vedic age. Among all religions of the world, Vedic-Hindu religion is considered as an ancient religion that is recognized as the foundation of civilization and as the most liberal democratic way of life. Hinduism is the mother of all religions. Hindu religion is the most personally expansive and psychologically empowering religion on earth.
Our holy literatures and great laureates have defined the term 'Hindu and Hinduism'. Kailash-Mansarowar to Hinda-Mahasagar is the original place of Hindus and Hinduism is, of course, their philosophy. The entire pious land has two major parts. The first part is Himabatkhanda that extends from the Bramhaputra in east and Kailash-Mansarowar in north to Hindukush in west and Ganga River in the south. Another second part is Bharatkhand, the great land from Ganga to Hinda-Mahasagar. An oldest and greatest civilization called Hinduism originated and developed here. The history is evident, we people of two countries co-existed in a peaceful and respectful manner. Most holy example in the history is set through Bhagwan Ram from Ayodhya and Devi Sita of Janakpur. Lumbini born Bhagwan Budhha offers enlighten knowledge of peace and, Indian King Ashoka constructs towers and monuments in Lumbini. Bhagwan Shiva lives as Pashupatinath in Nepal and as Biswonath in Kashi-Banarash and is his favourite place. Amarnath-in Jambu, Doleshore Mahadev-Sipadol, Bhaktapur, Tirupati, Badrinath, Kedarnath and Rameshoreram such numerous examples and explanations in our history not only describe our long term people to people cordiality, but also provide the basis of our sustainable future. Our past, present and future of our relationship has been flourished and sustained due to our common philosophical and religious belief, on 'Hinduism.' If we were not Hindus, our two countries could have existed sovereign and our relations could have such been cordial.
Hinduism educated us global brotherhood, humanitarian and respectful coexistence among differences. I strongly believe that Hindu philosophy can guide the entire world for humanitarian values and norms. As honorable Indian Prime minister Narendra Modi recently said our principle that Basudaiva Kutumbakam…..is the only option to make inter-countries' relationship more harmonious and meaningful. But, the Prime minister of India, the strong Hindu leaders, Narendra Modi- could not approach and propose the Hindu kingdom and Hindu monarchy in Nepal to keep intact Hinduism in the world. Nepal's monarchy is the identified symbol who is not only guards in Nepal but also India who has special authority in India's Hindu pilgrimage sites and shrines will continue.
It is a matter of grief after 2006 the major three parties imposed secularism and republic under pressure from Congress (I) Sonia Gandhi's and its RAW, and the western foreign powers. The fact is that that conspiracy to end Nepal's existence will also end and awareness will prevail. India's BJP government will also not fall under any conspiratorial spell against Nepal. Nepal is a nation that has shown its identity by being the only Hindu Kingdom that protects its monarchy. But many demand only the Hindu status in Nepal. There should not be a Hindu status only that only recognizes Hindu monopoly. The East India Company was very active to destroy all the Hindu shrines, temples attacking all Hindus nefariously in India. The Himalayan Hindu states were not also secured. In such critical stage, the Great King started to unify many Hindu states in this region. So, from the time of unification Nepal has been known as a Hindu kingdom, that is why, the great King, Prithvi Narayan Shah had unified more than 54 Hindu states to keep intact the Hindu identity in the world. In this Hindu Kingdom all religions including Islamic religion are given space. Nepal's national flag and its status as a Hindu kingdom has been a distinct identity in the world. Nepal is the central and authoritative land of Hinduism and Buddhism. Nepal could be declared a Hindu and Buddhist Kingdom and made the centre of these two religions. However, the sad part is that on 24 April 2006 the parliament was reinstated by the King and on 18 May 2006 under foreign pressure the party leaders declared Nepal a secular nation. It was a serious crime.
Everybody knows, among all religions of the world Hindu religion is considered as the most liberal. According to renowned philosopher Voltaire, Hinduism is the best gift of the East to the West. Similarly, George Bernard Shaw, Irish litterateur also said 'Hindu religion is the most important and the most liberal religion in the world. According to Encyclopedia of Religions and Ethics, signs of Hindu religion are even found in the present Islamic country like Iran. A stone scripture of 486 BC found in Iran contains the words Hindu and Hindus. Even an ancient Parsi scripture 'Shatir' has lifted a word of Ved Vyas 'I am a true Hindu born in a Hindu country'.
Another Hindu philosopher Manu has taken the area between Bindhya in south India and the Himalayas in the north as Aryabrata, the land of Aryans. Even outside travelers like Megasthaniz and Fai Han have written in their travel memoirs after their visit of the Kingdom of Chandra Gupta Maurya that Hindus have tall figure, long life, healthy, who avoid narcotics, simple, intelligent, truthful, who do not keep witness in transactions, do not lock their houses and there is no theft. So, in the evolutionary process of the world's civilization, Hindu philosophy is taken as liberal, simple and tolerant. A Nepali Scholar former minister Dinbandhu Aryal explains –'Hinduism is the sum and substance of the traditional humane cordiality. The African leader Nelson Mandella was impressed from Vedas, legends and Upanishads. He wanted to be converted Hindu for that purpose he wanted to perform penance or provide donation if necessary. He would be gratified and feel fortunate'
Hinduism is the most liberal and tolerant of religions. How can the oldest and most liberal of religions be thrown away just like that? No religion (and certainly not Hinduism & Buddhism) should be made a political issue. Why the culprit leaders of- Congress, UML & Maoists party didn't try to understand the sentiments of the people? It is the main duty for all the leaders to care the basic norms and values of the nation. But, by declaring Nepal a secular state, the visionless party leaders have done just that: tried to put together the unmixable, which could be dangerous for the stabilized Nepali society. No one has right to trample believe and conviction of the people rights.
Is a matter of grief that our cultural assets are thieving by the some Nepalese culprits and the foreigners since 30 years? Being not the national honesty to our political leaders and administrators, Nepal is becoming poorer & poorer day-by-day in our culture and national existence & spirit. One of the cultural historians G.C.Alpen has written remarkably before 24 years ago in The Rising Nepal – 'To see well this organized art theft going on daily apparently unhanded, is a painful experience for those of us who do not look at all upon Nepal as an 'under-developed', but a highly civilized country, unique in the world as a fascinating focus of culture and religion, a treasure-house of spiritual knowledge and traditions that have survived here, as if a miracle-amidst a spreading world of our and aggressive materialism.' People in the developed country appreciate the physical beauty of the stolen ancient images from the temple of Nepal at their respective country while the Nepalese old mothers are desperate and breaking out into tears. The images which were meticulously carved with precious stone and jewels taking two thousand years were destroyed within the period of recent thirty years. Let there be no such destruction anymore.
More than the Hindus have the freedom to pursue their own way of observing the religion. If Nepal is to be declared a secular country, all countries, which call themselves as Christian or Muslim countries should also be declared secular countries. If they want Nepal to become a secular country, then they should also be willing to shun their 'Cross' of the Christians, 'sign of David of the Jews and 'Kava' of Muslims. However, it needs to be pondered that even if Nepal was a Hindu Kingdom, its nature was like a secular country as Hindus have never done anything that would harass or trouble other religions. The Hindus and the Buddhists are more than three billions. It is a scared land for more than a billion Hindus and Buddhists. So, it is our request not to exercise in ineffectiveness. In the name of transforming the country into 'New Nepal' this is not the way to destroy our culture and traditions. We should have to think independently and have to come to our own conclusion. This will be the solution to keep intact our indigenous cultural assets Hindu kingdom and our Hindu monarchy in Nepal.