Interview of  Amarendra Khatua, Indian Ambassador in Argentina, Uruguay and Paraguay, and Poet.
By Mariela Govea* : The Indian  Embassy in Buenos Aires  is located at a very modern tower in Puerto Madero district. Situated  at 19 th floor, the indian office is quite big and above all,  it   has an incredible view facing to Puerto Madero, a dazzling district in Buenos Aires, where  fancy hotels , a new art district and a gastronomic pole give Puerto Madero a very unique business profile.
From the beginning of the interview,  I found out  Kathua is a gentle and a warm speaker. He has an overwhelming personality and is always eager to anticipate to the other person ´s needs.
He ´s brilliant, clever, erudite,  curious and a very friendly person to talk with. He insists in speaking Spanish to make me feel at home.  I felt immediately very comfortable as a visitor  in his office surrounded by several bookshelves filled with lots of books.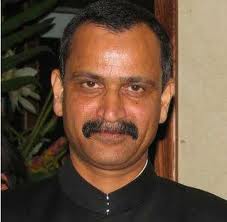 To my surprise,  some of the books are written by himself. One of them is "Love & Abracadabra", -his last book-which is  published in a hard cover edition and has also very nice illustrations of his poems. Khatua writes poems sonce he was ten years old and that, writing and publishing his poetry is an activity he has maintained during all his life..
Besides being an eximious diplomat who is in of charge of  three latin american countries, Argentina, Uruguay and Paraguay, Kathua is one of the most important contemporary poets nowadays, and his books are translated in several languages, including Spanish, of course,  the language  of his new destinations since he arrived to Buenos Aires around  the last months of last year.
Born and bred in a middle class family,  he ´s Doctor in Economics  and after having worked one year as a teacher at a university he decided for the diplomat career, which he pursues successfully.Although he loves India,  now  he ´s very happy  to be in Buenos Aires, and, when it omes to food, he ´s specially fond of " bife de chorizo", -beef-,  and also, he likes very much Argentina  ´s  dynamic way of life.
Owner of a great dosis of will and determination,  his work is fully devoted to intensify  bilateral relations between India and Argentina,  Paraguay and Uruguay,- commercially, touristically, culturally and inter-parlamentary- also.
He thinks politically Argentina and India are close, and also in trade, communications,  and science among other sectors. Only in trade in goods and commodities the figures are 2million dollars, of course, he and his team and  secretaries are working  hard  to double or triplicate it.
.- I see you are very enthusthiastic about this region. Do you believe in Argentina developing potential?
-As I see, Argentina is the third largest market in Latin America with a GDP of 454 billion dollars, after Brazil and Mexico. It has the potential to be one of the richest country in the region as well  in the world. In fact, it was among the top ten richest countries of the world in the early twentieth century and it is now in the process of reconfiguring its market and mindset to become a prosperous country again.
-And how do you see India Today?
– India is the greatest democracy in the world, even more than the United State.
–        What about the relationship between Indian and Argentine companies?
-There are 12 Indian companies which have stablished operations in Argentina
and provide employment to 7000 argentines. Seven of them are in the IT , two in agro-chemicals, one in pharma, one in cosmetics and one in electrical lightning.
Back to India, for example, we have leading cases, leading cases like
IMPSA, the Argentine engineering company specializing in hydroelectric which has an office in Gurgaon.  And Bagó, the leading argentine pharma company has an office in Hyderabad.
Besides, some argentine companies have shown interest in investments and joint venture in India in food  processing and autoparts.
– Which are the similarities between India and Argentina?
-Both countries have popular villages, dignity of the middle class and retired never retire.And, also, people talk without listening!
-Which is your message to our readers?
-Everyone must do a contribution to this world. A job is okey but it  is not a contribution, I am talking about a different thing, let ´s all contribute.
 * Mariela Govea is journalist and writer. She is president of Latin American Circle of Sexual Femeneity. She is Buddhist, hinduist and vegetarian.