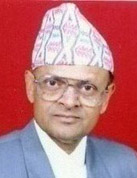 By Dirgha Raj Prasai : We Nepalese people always want cordial and harmonious relation with India. But, Congress (I) had conspired internally to bring us pain. So we were suspicious of Congress (I) Sonia Gandhi and RAW's activities. We don't have bitter feelings towards Indian people. We were against the Indian Congress party led by Sonia Gandhi. When Congress (I) comes to power it has influenced the traitors within Nepal and used it against the interest of Nepal. Due to the nefarious conspirator role of Congress (I) and its RAW, Nepal was very difficulties on the verge of dismemberment in the last eight years. Nepal has been always showing goodwill towards India. Cordial people to people level relations between Nepal and India has existed since ancient times. We hope, BJP Govt. should have to change the nefarious design of former Congress (I) Govt. and it's RAW against Nepal to maintain the cordial relation with Nepal.
In India 80 per cent of the population is Hindu. During the 1000 years of Muslim and English rule the Hindu shrines were destroyed and vandalized; and India desecrated and Hindu values harmed. India became Independent in 1947 after a great struggle by Indian nationalists. The constitution of the independent India declared itself 'secular'. A secular India was established following a joint effort between Hindu, Muslim and Christian's to draft a new constitution. It is not possible now to declare India a Hindu nation. It is not possible constitutionally. India should have been a Hindu nation from 1947. But Mahatma Gandhi, Jawaharlal Nehru and other leaders wanted secular system to create the harmonious among all the religions. Then, the secular tradition has established.
It is suggested, BJP Govt. and the Prime Minister of India Narendra Modi should decide the conspirator roles of South Block and RAW's against Nepal. To maintain the good relation with Nepal, I request to the BJP Govt. never involve the former nonsense Indian ambassadors in Nepal- Shyam Saran, KB Rajan, Rakesh Sood and Jayanta Prasad and present ambassador Ranjit Rea were the designers to terrorize Nepal. Due to the blunder of these Indian diplomats, the cordial relation between Nepal and India became unsatisfactory. So, to maintain the harmonious relation with Nepal, the evil elements must be boycotted by BJP Govt.
The essences of Nepalese nationalism are- Hinduism, constitutional monarchy and Nepali language. These three are typical identifying symbols of Nepal. Nepalese royal institution basically was known for national unity and patriotism. Nepal's sovereignty, integrity and national pride were addressed by monarchy. Nepal is not only an ancient sovereign country but also a Hindu Kingdom in the world. The small and pious Hindu and Buddha country, Nepal always seeks a permanent, loyal and respected permanent institution–the monarchy. The strategic and geo-socio-political situation of Nepal mandatorily demands the existence of monarchical institution in the country. The monarchy and Hindu Kingdom both are inter-related identified symbols of Nepal. Our concern is national stability, unity and complete democracy.
Since 2006, Nepal's situation has been gradually deteriorated. This is because our basic foundations are violated; consequently national unity and sustainable peace has not been achieved. The constitution is non-functional with the annulment of the constitution of 1990 that was suddenly suspended without any reason. The country has been unconstitutionally declared so called republic and secular state. This is in fact, foremost cause of the deteriorative situation of the country. Due to the eccentric corrupt characters of the party leaders in Nepal, the political, social and economic disintegration is continuing all over these days. They failed to understand the reality the country and desire of our people. They are traitors. The parties are choosing the ethnic lines to operate themselves to break Nepalese unity. This is tantamount to ping for a suicidal path. In fact, Americans and the Christian Europeans want to turn Nepal into a Christian nation. The vested interest of foreigners is to watch and spy India and China. They know Hinduism philosophy is one of the major tools for India to emerge as world power. They believe India can be weakened attacking Hinduism. Both Americans and Europeans want to unrest China through free Tibet politics.
The western countries think by this, they may reduce the influence of Buddhism in Tibet and China. As they are planned to exploit Nepal as base station, they want a control over the Nepalese administration. They think religion is best medium to penetrate. This is what they have already practiced and succeeded in Africa. The Nepalese monarchy of course, was major obstacle for them. Meanwhile in India, Sonia Gandhi (who is Christian and always against to Nepalese monarch) led congress regime came in power. With the common agenda, Americans, Europeans and then Indian Congress led government's intelligence acted upon Nepal. For this, they used some Nepalese party leaders as their puppets. And the game plan was implemented in the name of peoples' movement. So, the Hindu Nationalist Modi government of India must give its interest to keep intact the cordial relation between Nepal and India there must be in existence the Hindu Kingdom and constitutional monarchy in Nepal.