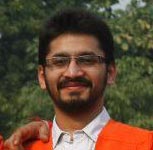 By AKHIL BANSAL : Pakistan assembly passed a resolution condemning the execution of Afzal Guru and the Indian opposition, expectedly created an issue out of it. This is not a standalone event in Pakistan polity, whenever they get any chance to show their empathy with Kashmir they over-show it, or if they don't get one, they create one from thin air. This is a part of the longstanding Pakistani policy of destabilizing Kashmir and India, though, it was quite surprising this time as they openly supported a terrorist.
State is based on the paradigm of carrying out legitimate coercion on its people, therefore the power to carry out the laws of the land. It seems like by this yardstick, Pakistan doesn't qualify to be even called a state, leave alone being a nation. Genocide of Hazaras is carried out, NWFP is out of Pakistan it seems, Karachi burns everyday due to myriad reasons, a bomb rips apart somewhere in the country daily, Baloch insurgency is going on, extremist elements have taken the society hostage and I have space issues if I keep on citing the issues in Pakistan. And all these issues have a basic element to it, that is the opposition to India from which extremists and the Army derives its power and due to which the country is still burning. But, Pakistan says, 'we won't learn, we are incorrigible, we will burn us to the point that we die'. Atleast I and many others heard the 'cry' from Pakistan assembly in this way, while they were ostensibly trying to show solidarity with Kashmiris. I know Kashmiris are not masochists like Pakistan that they will throw themselves in burning rage of Pakistan. They don't want a blast in their land everyday and they don't want genocides. It seems like Pakistani establishment is mocking themselves by such acts. They have no concern for their own people, but they have concern for Kashmiris. I sometimes feel Pakistani society need to ask this question from themselves that I would have looked much better it a resolution would have come out of assembly showing concern for their own people, but no Pakistan says, we don't learn, we enjoy our own mutilation.
This episode again demonstrates the suicidal path on which Pakistan is treading. For the Indian establishment, I will augur well if they don't pay heed to such provocations and concentrate on a sensible foreign policy with domestic development as its focus.