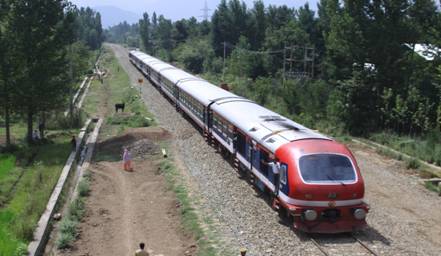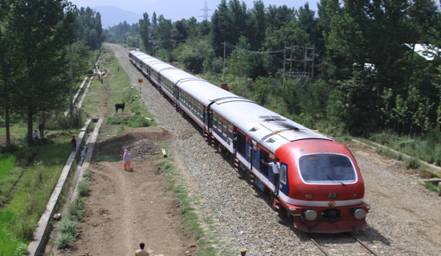 INITIATIVES FOR PASSENGERS
Passenger Helpline No. 138 and security helpline 182
Indian Railways provided the All India Helpline Number '138' for passengers, as an interface for queries/complaints related to medical emergency, cleanliness, food & catering, coach maintenance, linen etc. A security helpline '182'has also been launched to report any unsavory incidents. This service is very important public service and may play an important role in emergencies like crime against women, onboard unlawful activity, train accidents, medical attention required and fire etc. These helpline numbers viz.138&182 and existing 139 are now to be printed on the tickets for the convenience of passengers.
Launching of e-catering service in trains
The Ministry of Railways is providing e-catering service in trains through its PSU, Indian Railways Catering &Tourism Corporation (IRCTC). This is a service where a passenger is able to place an order for a meal, to be served at his seat in the train enroute, through a phone call or an SMS. Presently this service is available in 120 pairs of trains.
Go-India Smart card
Go-India' smart card scheme has been launched on pilot basis on two sectors i.e. New Delhi-Mumbai and New Delhi-Howrah. At present, the Go-India smart card enables passengers to pay for reserved and unreserved tickets. The scheme is intended to reduce the transaction time at the booking counters for the convenience of passengers as it facilitates cashless transaction.
Introduction of Next Generation e-ticketing system
Next generation E-ticketing system introduced, which can book 7200 online tickets instead of 2000 tickets per minute and to attend 2,00,000 enquiries instead of 50000 per minute.
SMS Alerts to passengers
Indian Railways added another milestone by launching yet another innovative scheme called the 'SMS Gateway', which will enable passengers to get SMS alerts on the status of reserved tickets. Moreover SMS alerts giving wakeup calls has also been introduced.
Mobile security App.for women
Mobile app for security of women has been launched in Mumbai suburban trains.This is the first phase and it will be extended in other areas in a phased manner.
Yatri Ticket Sewa Kendra scheme
A new scheme called the Yatri Ticket Sewa Kendra (YTSK) Scheme has been launched. Under this scheme, agents of Indian Railways can operate ticketing terminals at various locations in the cities and towns for issuing reserved tickets and unreserved tickets. This will offer greater convenience to passengers in getting rail tickets.
Adarsh Station
The scheme of Adarsh stations for better amennities has been introduced in the year 2009. Under this scheme, 1052 stations have been selected for development as Adarsh Station upto 2013-14. 108 stations have been developed under the scheme during 2014-15, as such a total of 934 stations have been developed as 'Adarsh' station so far.
Pilgrim special tourist trains
With a view to promote rail tourism in the country and to provide reasonably priced tourism package to tourists, especially the pilgrims in the country, India Railways through its PSU IRCTC has launched six pilgrim special tourist train packages in the first phase. The tourist packages are; Sukhamngalam Yatra, Dham special with Dakshin Darshan via Lucknow, Dham special with Dakshin Darshan via Jaipur, Shikharji Circuit Yatra, Jyotirling Yatra, and Takht Parikrama.
Braille Signages on coaches
For the help of visually impaired passengers, Indian Railways has taken the initiative of providing Braille signages on coaches.
CCTV on coaches
In order to improve security measures on trains and especially for women passengers, it has been decided to provide CCTV cameras on coaches especially in ladies compartments in doorway and aisle area without infringing on the privacy.
Waiting chairs/benches etc. under MPLAD Scheme
Guidelines issue for installations of chairs/benches/overhead sheds at stations under Member of Parliament Local Area Development Scheme(MPLAD).Comprehensive guidelines have been issued for improvement of passenger amenities at stations through NGOs, Trusts, Corporate etc.
R.O. drinking water at stations
Provision of Reverse Osmosis (R.O.) drinking water units at selection stations on experimental basis has been planned. To begin with, eight stations namely, Madurai, Gadag, Tirupati, Guwahati Dwarka, H.Nizammudin, Patna & Bhopal were identified for provision of R.O. drinking water units. While R.O. drinking water units have already been commissioned at Dwarka, Gadag, H.Nizammudin, Katihar (in lieu of Guwahati), Madurai and Tirupati stations R.O. units at Patna & Bhopal are planned to be commissioned shortly.This will help provide safe drinking water to passengers.
Seperate Food safety officer in every division
With a view to ensure better quality check on the food installations in Railway, it has been decided to appoint one Food Safety Officer in every Division of the Railways. Earlier a Food Safety Officer was entrusted with more than one Division which was causing difficulty in ensuring proper supervision.
DIGITAL INDIA INITIATIVE
Launching of a 'Customer Complaint Web Portal'
A 'Customer Complaint Web Portal and Mobile Application' (android/windows based mobile App), was launched. One can track the status of the complaints which he or she registered on this portal with the help of mobile App. Feedback can also be given on this portal. This will help in faster redressal of passenger grievances.
'Operation Five Minutes' –Paperless Unreserved Ticketing
Fulfilling yet another commitment of the Railway Budget 2015-16, the Minister of Railways launched Mobile Application for Paperless Unreserved Ticketing on pilot basis on Egmore –Tambaram Suburban Section of Chennai. This initiative is part of Indian Railways effort to help passengers purchase the unreserved tickets within five minutes under its 'Operation five minutes programme'. This will allow the passenger to buy a ticket on the move and allow him or her to board the train with the ticket secured on his or her mobile phone, without any need for printing the ticket.
'E-Samiksha' for Implementation Monitoring
In yet another milestone initiative for ensuring timely implementation of budget proposals, a special portal called 'E-Samiksha', has been launched for monitoring the implementation of budget announcements/commitments .This portal would help to keep an eye on the implementation of budget process.
Facility of 'Wi-Fi' services on Railway stations
Indian Railways is providing the Wi-Fi Broadband Services at several stations which include Bangaluru, Secunderabad, Mumbai CST, Agra, Varanasi, Hawrah, Chennai, Ahmdabad. The Wi-Fi project on Indian Railways is being executed by RailTel, a Public Sector Undertaking of the Ministry of Railways. Wi-Fi facility is available to the users free of cost initially for a period of 30 minutes by registering on the Wi-Fi network through their mobile phones. The facility of Wi-Fi will be extended to other stations in a phased manner.
Introduction of e-demand system
With the release of this module, customers can sit in the convenience of their homes or offices and register their freight demands.
Railways' Social Media platform
To keep pace with the modern means of internet media, Indian Railways launched its three social media platforms namely Facebook, Twitter and You Tube with the URL @railminindia. Railway Budget was for the first time live streamed on social media platforms. Online suggestions and feedback can also be made on these social media platforms.
SYSTEM IMPROVEMENT
MoU signed for highest ever funding for Railways
In a landmark achievement, a Memorandum of Understanding (MoU) was signed between the Ministry of Railways and Life Insurance Corporation (LIC) for highest ever funding of Rs. 1.5 lakh crore for Railways. This move will ultimately help railways growth through augmentation of its financial resources.
Interim Report of HLRRC submitted to Railway Board
Interim Report of High Level Railway Restructuring Committee (HLRCC) headed by Dr. Bibek Debroy has been submitted to the Railway Board.The report has also been put on the Ministry's website for inviting suggestions and comments. This committee was constituted with an aim to find out ways to mobilise resources for major railway projects and restructuring of railways.
Delegating more power to Zonal Railways
With an aim to fast track decision making and bring in transparency full powers have been delegated to General Manages and Director Generals as tender authority . All the cases for acceptance of Works and Stores tenders, will now be dealt with and finalized by Zonal Railways and Production Units.Scope of e-tendering is being expanded for increased transparency and procurement.
Saving of energy
To reduce cost of Electrical energy being used for traction, procurement through open market is being done.Power Purchase Agreement between DVC and North Central railway for supply of 50MW power has already been signed.Saving for the month of March 2015 alone is Rs 10 Crore approx.
A web based electrical energy management system called RailSaver has been launched which will help save upto 15% energy by 2020.
Logistic Hubs on National Waterways
A Memorandum of Understanding (MoU) has been signed between the Inland Waterways Authority of India (IWA) and the Dedicated Freight Corridor Corporation of India (DFCCIL) for creation of logistic hubs with rail connectivity at Varanasi and other places on National Waterways.
Alternative Energy Resources
Solar Plants of 2 MW at RCF, Raebareli and 1 MW at Katra Railway station have been commissioned.Target of commissioning 6.5 MW Solar Power plants in year 2015-16. A 30 KW Solar Plant has been commissioned at roof top Rail Bhawan at New Delhi. Solar plants at other Railway buildings are proposed to be installed in future. Target for commissioning of 25 MW Wind Energy Plant at Jaisalmer in 2015-16.
Ratan Tata as Head of 'Kayakalp' Council
Taking immediate follow up action in implementing the Budget announcement, Railways constituted the 'Kayakalp' Council and appointed Shri Ratan Tata to head this Council. The purpose of the Council is to recommend innovative methods and processes for the improvement, betterment and transformation of the Indian Railways.
MOU with National Institute of Design
Adding yet another milestone by fulfilling another commitment announced in the Railway Budget 2015-16, the Indian Railway signed an MoU to set up its own Railway Design Centre in the campus of National Institute of Design (NID), Ahmadabad. This will help improve customer's happiness by way of better designed coaches and providing cost effective solutions to problems faced by passengers during train travel.
White paper and vision 2030 document
Minister of Railways released White Paper on Railways in the parliament with a view to understand the challenges that the organization is presently facing. Ministry of Railways is now working on the vision 2030 document on Railways which will contain a blueprint for the future development of the Indian Railways.
Task forces and Experts' committees
Several task forces and committees of experts constituted for focussed attention on areas like revenue mobilization through advertising, improving financial health of railways, restructuring delegation of powers, productivity enhancement, etc. The various committees have roped in experts like E Shreedhran, former CAG Vinod Rai, economist Bibek Debroy and noted industrialist Ratan Tata to improve the Railways and bring in innovative ideas and solutions.
Better training of Railway Personnel
Academic Services Agreement has been signed with Beijing Jiao Tong University, China for training of 100 officers of various departments in Heavy Haul Technology. 'Indian Railways Chair for Sustainable Mobility' has been set up at TERI University, New Delhi. Modules on gender sensitization of Railway personnel have been introduced in centralized training institutes.
Centre for Railway Research set up at Mumbai University
Railway Ministry and Mumbai University signed an MoU to set up a Centre for Railway Research (CRR) at University of Mumbai in order to develop a long-term frame work for research collaboration.
Leveraging of space for advertising
With a view to generate additional revenue, RITES,a public sector undertaking of Ministry of Railways prepared a Concept Note, indicating ways and means for leveraging of space in coaches, wagons, trains, railway stations etc. for advertisements, publicity and other purposes. Now, six-member task force headed by Member Traffic Railway Board has been set up to examine and implement this project.
INFRASTRUCTURE
Critical coal connectivity projects fasttracked
Transportation of coal is an important activity of Indian Railways and is very crucial for the country's power supply system. Critical Coal connectivity projects in Jharkhand, Chhattisgarh and Orissa are being fast tracked. MOU has been signed with Ministry of Coal and Government of Odisha. Another MOU with Government of Jharkhand is in the offing.
Redevelopment of Railway Stations
Railway Ministry has now decided to offer Railway Stations for redevelopment on 'as is where is' basis, by inviting open bids from interested parties with their designs and business ideas duly providing for amenities and other requirements of the Railways. The Process for redevelopment of stations, already indentified viz. Anand Vihar, Bijwasan, Chandigarh, Shivaji Nagar & Habibganj by Indian Railway Stations Development Corporation Ltd. (IRSDC) is continuing.
Progress On Dedicated Freight Corridor Project
Eastern and Western Dedicated Freight corridors are being developed for smooth and fast transportation of freight.
Loan for Eastern Dedicated Freight Corridor (Phase 2) for US $ 1100 million approved by the World Bank on 22.04.14, has been signed on 11th November 2014. Electrification contract for 945 km of Western DFC has been awarded on 18.11.2014.
FDI and PPP in Railways
Cabinet approved 100% FDI in identified areas of Railway sector.Ministry of Railways has formulated sectoral guidelines on FDI.Investor's meet was held to explain FDI to investors.More meets planned in future. High level committee set up to discuss FDI and PPP issues. Ministry of Railways has also issued Model Concession Agreement for Non Governmental Railway model, joint venture model and Built, Operate and Transfer (BOT) model. During the period , approvals were also given for port connectivity PPP projects viz. Roha-Dighi newline and Digni-Jaigarh port newline. In addition in principle approval for two more port connectivity projects viz. Chhara port and Nargol port has been given.
New Rail Neer Plant in Mumbai inaugurated
A new Rail Neer plant has been set up at Ambernath (Mumbai) by Indian Railway Catering and Tourism Corporation (IRCTC), a Public Sector Undertaking of Ministry of Railways, the production capacity of this plant will be 2 lakh liters per day, This will improve availability of safe Packaged Drinking Water (PDW).
Laying of Opticle Fibre Cable on Railway Network
A total number of 1,329 route kilometres OFC has been laid. Cumulatively, 48,179 route kilometers (approx.) OFC has been commissioned over Indian .It will enable high speed internet connectivity and video conferencing facility.
New lines and electrification
In 2014-15, 1983 km of railway lines have been commissioned. This is the highest ever. In 2014-15, 1375 km of railway electrification completed. This is the highest ever.
SAFETY
Geo-spatial technologies for unmanned level crossings
In a significant move to make Unmanned Level Crossings (UMLCs) safer for road users thereby avoiding accidents thereat, Geo-spatial technologies are proposed to be used with the help of ISRO. Under such technologies which combine Global Positioning System(GPS), Geographic Information System(GIS) and Remote Sensing, an alert message will be flashed automatically in the mobile phones of all the road users carrying GPS enabled mobile phones in the vicinity of an Unmanned Level Crossing, about the approaching train. This will save many lives as many fatal accidents occur at unmanned level crossing.
Quick evacuation of injured persons from tracks
Standard Operating Procedures (SOPs) are being put in place regarding quick evacuation of the injured persons from the railway track so that human lives are saved.
MoU on construction of ROBs/RUBs
In a move to further enhance safety of road users, Ministry of Railways and Ministry of Road Transport & Highways signed a Memorandum of Understanding (MoU) on policy related to constructions of Road Over Bridges and Road Under Bridges on National Highway corridors.
MAKE IN INDIA
Expansion project of DLW factory
The Prime Minister Shri Narendra Modi inaugurated the commencement of Expansion Project of Diesel Locomotive Works (DLW), a production unit of Indian Railways at Varanasi on some of the features of the expansion plan are; a new block shop, loco frame shop and loco assembly shop, new plant shop having advanced paint booths, induction of high productivity machines and generation of 250 kw Green Power by roof mounted grid connected solar power plant. The project will herald the 'Make in India' campaign in the holy city, Varanasi.
Ministry of Railway also successfully floated RFP for state of the Art Electro Loco Factory at Madhepura and Diesel Loco Factory at Marhowra. Again RFP were issued for manufacturing 9000 HP electric locos for western DFC. Locos will be manufactured at Dankuni and Technology will be transferred to CLW, Chittanranjan.
New production units
Rail Wheel Plan, Bela commissioned and regular production started.
2nd unit for manufacture of LHB coaches fit to run at 160kmph made functional at Integral Coach Factory, Chennai.
DEMU factory Haldia commissioned.
Mid-life Rehabilitation Workshop for coaches at Jhansi completed.
New Loco and New Green Train
5500 HP Diesel Locomotive introduced in Indian Railway System which is the highest horse power Diesel Engine.
First "Green" DEMU rail introduced on Northern Railway to run between Rewari-Rohtak Section.
HIGH SPEED PROJECTS
Status of Railways Semi High Speed Projects
Indian Railways is working on increasing speed of trains raising it to 160kmph/200 kmph referred as Semi-High speed. It has identified nine corridors for this purpose. Trial run in Delhi-Agra corridor successfully completed for running trains at semi-high speed of 160 km. per hour. The commercial services will be started after obtaining the CRS sanction.
The feasibility study for semi high speed on Chennai-Bangaluru-Mysore Corridor is being taken up by Chinese Railways.
Feasibility study for New Delhi-Chandigarh Corridor to be undertaken with French Railway.
Discussions are on with Germany for undertaking feasibility study of Nagpur-Secunderabad Corridor.
5 other identified corridors under examination for semi high speed trains.
Mumbai-Ahemdabad High Speed Bullet train project
Ministry of Railways took steps for introduction of High Speed Bullet Trains(300+kmph) in the country on Mumbai-Ahmadabad corridor. It is part of the Ministry's ambitious plan to have Diamond Quadrilateral network of High Speed Rail connecting major metros and growth centers of the country. French Railway submitted business model study of this corridor. The interim report of feasibility study being undertaken by Japan has been received and final report is expected in June, 2015. One new route between New Delhi and Chennai has been identified for introducing bullet train and China has been entrusted with the task of undertaking feasibility study of this line.
JAMMU & KASHMIR AND NORTH EAST
Opening of Lumding-Silchar broad gauge section
The much awaited Lumding-Silchar Broad Gauge section (Assam) inaugurated with the running of goods trains. The passenger train services will be started soon on this section. This line will provide seamless BG connectivity to Barak Valley of Assam with the rest of the country.It is a very crucial rail link for the N.E region.
First train to Meghalaya
In an important event in the history of Railways, one more north-eastern state namely Meghalaya was brought on country's railway map. Prime Minister Shri Narendra Modi flagged off the first ever train from Guwahati to Medipathar in Meghalaya to mark this feat.
Foundation stone for rail link to Mizoram's capital
To further boost the development of rail link in North Eastern region, the Hon'ble Prime Minister Shri Narendra Modi laid the foundation for a new rail route from Bhairabi to Sairang in Mizoram. It will take rail connectivity to Aizawl, the capital of Mizoram
Katra comes on country's railway map
In another landmark engineering marvel, Indian Railways completed Udhampur-Katra Broad gauge line in the State of Jammu and Kashmir. Prime Minister dedicated this line to the nation at a programme held at Katra.This line has brought Katra on country's railway map consequently bringing Jammu & Kashmir Valley nearer to the rest of the nation .
Railways help during J&K floods
Indian Railways geared up its machinery to provide all possible help to the travelling public in the wake of unprecedented flood in the state of Jammu and Kashmir. Railways arranged transport of relief material free of charge by coaching trains to Jammu Tawi and Udhampur from any station of India. Railways made about 4 lakh Rail Neer drinking water bottles available for flood affected people of J&K.
North-eastern tour package for college students
An education train 'Gyanodaya Express' – a tour package for the students of Delhi University to visit North east states, was flagged off from Delhi . It will help the students to connect with NE region .
SWACHH BHARAT ABHIYAAN
Nation wide Action Plan
Indian Railways is implementing PMs nationwide campaign of Swachch Bharat Abhiyan in true letter and spirit.
Separate Directorate for Environment and Housekeeping created. This Directorate will address all environment and housekeeping related issues over Railways.
Detailed action plan on cleanliness prepared has been prepared and an Integrated Policy of cleanliness in Stations, Platforms and Coaches is under formulation.
50 major stations outsourced for international level cleanliness.
Setting up of mechanised laundries
Mechanised laundries at 6 new locations have been set up to improve the quality of linen being supplied to AC class passengers. With this Indian Railway now have 33 such mechanized laundries.
Dustbins on all the coaches:
Dustbins on trains were hitherto being provided mainly on AC coaches. Now dustbins will be provided in all the coaches including non AC coaches.
On Board Housekeeping services scheme:
An additional 83 no. of trains have been covered under OBHS scheme taking total coverage to around 500 trains. Under this scheme ,cleanliness is maintained during run of the train.
Installation of more Bio-Toilets in coaches
More than 10159 Bio-toilets have been fitted till March, 2015 and target set for 2015-16 is fitment of 17,000 bio-toilets. These toilets use bacterial action to convert human waste into water and gas.
HELPING FARMERS AND RURAL PEOPLE
First ever Perishable Cargo Centre set up
The first ever Perishable Cargo Centre of Container Corporation of India (CONCOR) (a Railway PSU) at Adarsh Nagar station near Azadpur Sabzi Mandi, Delhi, was inaugurated. This perishable cargo centre will help farmers and consumers in a big way and the ripening of fruits and cold storage facilities at this cargo centre will help the farmers get a good price and good market for their product.
Skill development activities in railway premises
Indian Railways has around 8000 stations and premises of some of the railway stations with very few trains and scanty footfall would be used for skill development activities. It will help rural people substantially.The skill development programme has been emphasized by the Hon'ble Prime Minister for the benefit of the people.
Promoting Rural Products
Railways will also help in marketing rural products made by self help groups and other such agencies so as to help common rural people. The Konkani-cuisine restaurant "Konkan Swaad Katta' recently set up at Ratnagiri station in Konkan Railway is a step in this direction to encourage traditional businesses and local talent as well as help the financial empowerment of local people and at the same time passengers getting taste traditional dishes.
INTERNATIONAL COOPERATION
MoU with China in technical cooperation in Railways
A Memorandum of Understanding (MoU) and an Action Plan were signed between the Government of India and People's Republic of China in enhancing Technical Cooperation in Railway Sector, at delegation level talks between the two countries on 18th September 2014. The potential cooperation areas mentioned in the MoU are; i) Training in heavy haul freight transportation, ii) Raising of speed of trains on existing routes, iii) Station redevelopment, iv) High speed rail and v) Setting up of Railway University.
MoU on cooperation with Republic of Korea
Indian Railways and Republic of Korea signed a MoU on Technical Cooperation In the Rail Sector. The MoU would enable technical assistance and cooperation between the Railways of the two countries on areas such as High Speed Rail, Modernisation of Rolling Stock, Railway Operations, Modernisation of Signalling, Construction & Maintenance technologies and in development of Logistics Parks/Terminals.
Cooperation with Czech Republic
MoU has also been signed with Czech Republic for technical assistance in Railway sector. The potential cooperation areas mentioned in the MoU are Freight operations- Logistics of automotive transport, Passenger operations – raising of speeds upto 200 kmph; Infrastructure building and management – station development and workshop modernization; Information & communication technologies especially for passenger amenities ; Modernisation of rolling stock; Modernisation of signalling & telecom etc.
Cooperation with Austria
The 2nd Indo-Austrian Joint Working Group meeting on the Technology Specific Cooperation in the field of Railways was organized on 9.9.2014.
Cooperation among SAARC nations
Ministry of Railways hosted the 5th meeting of the SAARC Inter governmental Group on Transport on 30th September,2014 at Vigyan Bhawan ,New Delhi,The meeting was attended by all the SAARC member countries.
Relief during Nepal earthquake
During the Nepal earthquake crisis, Railways made available to Nepal about 4 lakh Rail Neer drinking water bottles. Railways also made available to earthquake victims the facility of the Railways hospitals situated in the border towns. Railways also facilitated travel of earthquake victims.
IMPROVED PERFORMANCE
Increase in Railways' revenue earnings
The total approximate earnings of Indian Railways on originating basis during the financial year 2014-15 (1st April 2014 to 31st March 2015) were Rs. 157880.50 crore compared to Rs. 140761.27 crore during the same period last year, registering an increase of 12.16 per cent.
Improved Freight loading
Indian Railways carried 1097.57 million tonnes of revenue earning freight traffic during the financial year 2014-15 i.e. from 1st April 2014 to 31st March 2015. The freight carried shows an increase of 44.02 million tonnes over the freight traffic of 1053.55 million tonnes actually carried during the corresponding period last year, registering an increase of 4.18 per cent.
MISCELLANEOUS
Pathbreaking Railway Budget
Railway Budget 2015-16 was completely depoliticized making it a long term perspective document.
The thrust areas identified in the budget include Quality of life in journeys, station redevelopment, capacity augmentation, safety, technology upgradation, partnerships for development, improvements to management processes and systems, resource mobilization, human resources, energy and sustainability, transparency and governance initiatives.
28 announcements made in the Budget speech already implemented.
Railways players bring laurel to the nation
Railway sportspersons as a part of Indian contingent at recently concluded Commonwealth Games-2014, (CWG) at Glasgow, Scotland, again brought glory to the nation by bagging 9 medals out of total 64 medals won by India.
Renovation of National Rail Museum
A big renovation exercise was undertaken in National Railways Museum, Delhi. Musical Fountain, Toy Train and Renovated Exhibits have been added at the Museum.