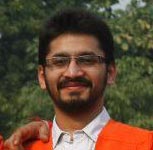 By Akhil Bansal : Watching a debate on Syrian crisis, my mind just ran through the mayhem and destruction that is going on in the middle-east and the region nearby. From Pakistan to Afghanistan to Iraq to Syria, its fear and death all around. Going through such things, there comes a question in my mind………….Why after all!!!
Finding answer to this simple question, an author came up in my mind who claimed that US and UK, along with other Western nations, pumped billions to widen the Shia-Sunni rift. Congratulations to them, they are indeed successful,if this is the case. Moreovr even if this is not the case, one thing is for sure, the benefit of weakened middle-east are reaped by some powerfull nations and they are ofcourse watching, playing and enjoying the show.
One important tool in this 'playing' aspect is the use of media,both social and mainstream, to further their propaganda. Things are given a Shia versus Sunni colour initially and then the fundamentalism is allowed to play havoc. What they have essentially done is that they have used the socio-psychological frustration of a largely unaware, illiterate and deeply religious population against each other and in the process have saved and furthered their influence in the region and the globe. The people are made to hate and kill each other in the name of religion and sect and at a larger plan groupings are created which doesn't hold much weight by themselves and get played along. Not just the people in these regions, but people in other nations also,like us, seem to think that the rift is natural and we blame the 'innocents' for it, when the background is not clear.
One may say that I am speaking the language of a conspiracy theorist. Well, this seems to be the most plausible of all I have heard and thought of then. Ofcourse, propanganda and Western hand is just one part of it, conflict of interest, geopolitics and internal power plays too play a role, but the former is important too.
What is not easily discernable is whether the rift started widening by regional factors and then abused by West or the latter itself ripped it open initially. Whatever be the case, this vast and powerfull Western propanganda machine that acts through media, education, language and even movies, take the case of last year Oscar winners, has secured a strategic victory for some nations. The muslim world stands divided and the chances are this chasm will widen further and more destruction will follow and that will not bode well for us Indians as well.
I can not definitelty say what is required to 'take out' the people who are 'coopted' by global powers in their plans in the name of sects and religion. But one thing is for sure, this 'drama' will leave a destruction of propotions not seen before, especially to one community and that is the Islamic world, not just Shias or Sunnis, with its repercussions on us too. Maybe now it is too late for the divided region to get back to peace. I may seem to be a pessimist, but looking at the fundamentalism, the hatred, the still continuing propaganda and most importantly, the psychological distortion of people of the region, in absence of opposite forces, I unfortunately am visualising a bleak future for the region, a future of killing and get killed, atleast in the short to medium term, unless and untill the powers have a change of heart or some miracle happens, but the probablility of both the cases is ofcourse….negligible.