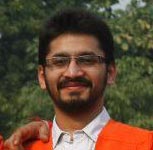 BY AKHIL BANSAL, CHANDIGARH : The present for us Indians, and indeed the whole world, is a time for change. A change, which is unprecedented in its pace and potential, due to many factors, like technology, will to change, et cetera. This change is smooth sometimes and sometimes violent and destructive and the ends are equally variable too.
In our nation today, education is fast increasing, along with use of mobiles and other tech devices that enable an individual or a group to raise its voice. Further, unemployment is also accelerating, don't go by the official figures, just look around! Malgovernance, corruption, et al further frustrates people who are desperate to atleast have basics of life. Over and above that, materialism and capitalism is gathering strength in our society with the spread of its own values and the competition that accompanies. A vast majority that is unable to cope up with its demands is getting distressed. Increasing alcohol and drug use, psychological disorders, especially in urban areas and even some lifestyle disease are manifestation of this 'new society'.
But people are clamouring for change now and that is good. From December 16 gangrape related protests to Anna movement to AAP's revolutionary win in Delhi, we can witness a desperation to transform an ill system.
But what in the next two or three decades, can we have more good news or will we see a social disaster, in which unemployment is a big contributor, remember educated unemployed or unsatisfied are a potent weapon of change in almost every nation. What happens is education enables a person to see that he has power and he can and unemployment nudges him to do something through frustration and anger. When things go beyond a person's level of tolerance and he can "perceive" an 'enemy', whether justified or not, he acts for change.
Now in our nation, frustration is increasing and a lot of hidden anger is coming out, thanks to many factors. Further, this anger is leading to change, though in small proportions. But there is always a justified fear of this anger being captured by communal, casteist, regionalistic or anti-democratic forces. After all, a frustrated mind can be easily nudged in many wrong ways and we know our so called leaders have gained perfection in this art of channelising frustration to their advantage.
In our coming time, many things can happen, there can be Hindu communalism which will be our variety of fascism, upper versus lower castes, thanks to frustration in upper castes for reservation and their perceived appeasement of lower castes, regionalism or even Naxalism, if our nation is unable to keep unemployment and accompanying frustration within limits, along with many other co-contributory factors. But yes, there is a way out, a win-loss situation, in which people mobilize around the real issue and that is maladministration and exploitation that they are victims of from ages. Thankfully, with rise of AAP, civil society and media, I am hopeful that people will be mobilised around the issue of governance and not other identities that make people release their frustration on each other, rather than the 'system'. This will be a win for the people and the whole nation. Not only realignment of power equations, but a good state can ensure that demands of people are fulfilled and the frustration is taken care of. Sadly, the elites, social, political and economic, will loose and I want to be happily sorry for that!